Caesalpinia gilliesii, Bird-of-Paradise Shrub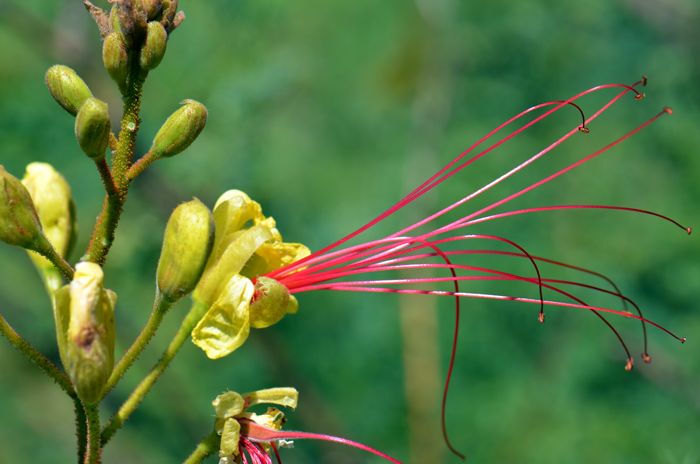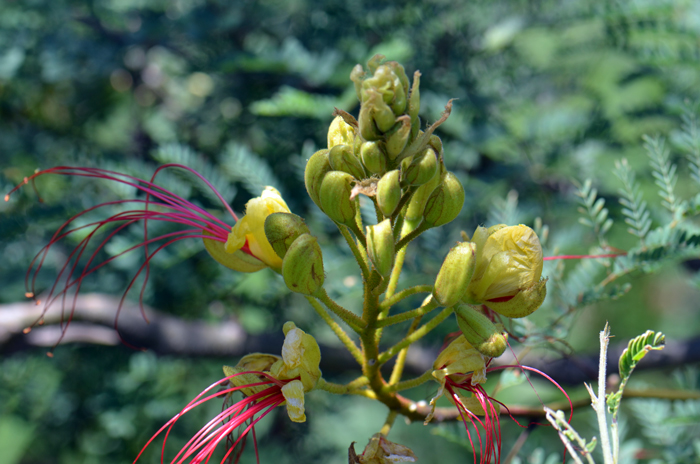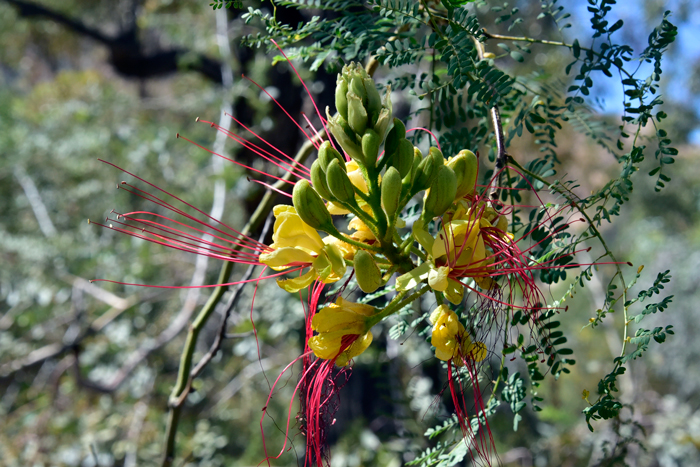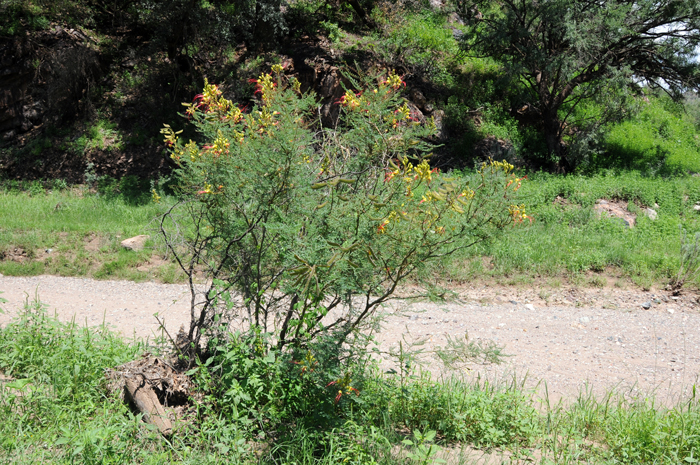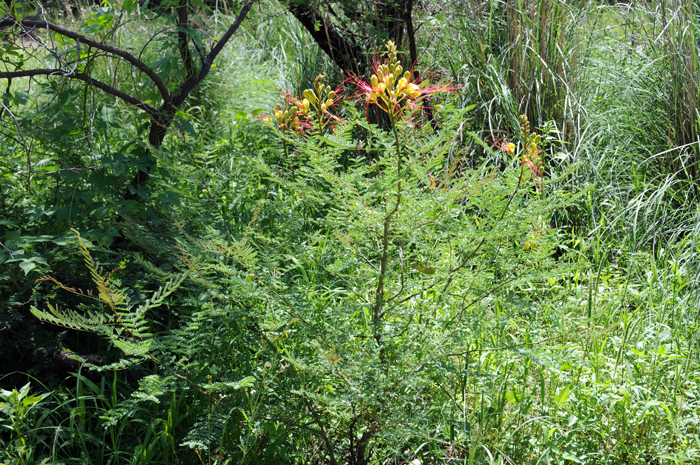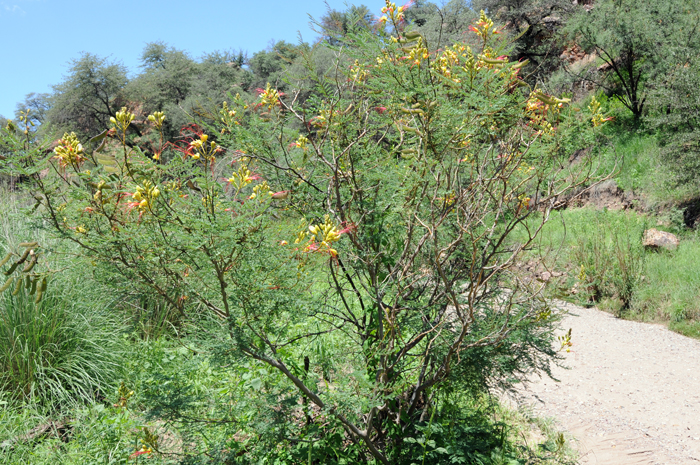 Scientific Name: Caesalpinia gilliesii
Common Name: Bird-of-Paradise Shrub

Also Called: Bird of Paradise, Bird of Paradise Bush, Desert Bird of Paradise, Mexican Bird of Paradise, Paradise Caesalpinia, Paradise Poinciana, Yellow Bird of Paradise; (Spanish Amarillo, Barba de Chivo, Mal de Ojo, Tabachín).

Family: Fabaceae or Leguminosae Family

Synonyms: (Caesalpinia macrantha, Erythrostemon gilliesii, Poinciana gilliesii)

Status: Naturalized - escapee from cultivation.

Duration: Perennial

Size: 3 to 12 feet tall (1 to 4 m)

Growth Form: Tree or large shrubs; plants with a foul fragrance, stems glandular hairy.

Leaves: Green; evergreen; glabrous, compound, bipinnate

Flower Color: Yellow flowers with orange marks; 5 yellow petals with 10 pair of showy red stamen, borne in racemes up to 8 inches long (10 to 15 cm); fruit toxic, dehiscent, oblong and flat, pods curved to straight and twisted at maturity, seed pods gland-dotted with dense short red glandular hair.

Flowering Season: April or May to August and September

Elevation: Below 3,000 feet (914.4 m)

Habitat Preferences: Disturbed areas, roadside, gravelly areas.

Recorded Range: Bird-of-Paradise is found mainly in the southwestern United States in AZ, CA, GA, NM, NV, OK, TX and UT. Greatest populations are found in Arizona, New Mexico, Utah and Texas.

North America & US County Distribution Map for Caesalpinia gilliesii.

U.S. Weed Information: No information available.
Invasive/Noxious Weed Information: No information available.
Wetland Indicator: No information available.
Threatened/Endangered Information: No information available.

Genus Information: In North America there are 24 species and 24 accepted taxa overall for Caesalpinia. Worldwide, The Plant List includes 162 accepted species names and a further 66 scientific names of infraspecific rank for Caesalpinia.

In the Southwestern United States Texas has 7 species of Caesalpinia, Arizona and California each have 3 species and Nevada, New Mexico and Utah each have 1 species. All data approximate and subject to revision.

Comments: Bird-of-Paradise Shrub has beautiful and showy flowers and is often planted as an ornamental. Occasionally plants escape and become naturalized through the western, central and southern parts of the state. Plants are originally native to South America, mainly in Argentina and Uruguay. The plants are naturalized in southern Arizona and Texas. There also occur and are common in the rest of the southwestern United States.

Caesalpinia gilliesii is not a relative of the tropical Bird of Paradise in the genus Strelitzia.

In Southwest Desert Flora also see Red Bird-of-Paradise, Caesalpinia pulcherrima.

Etymology:

The genus Caesalpinia is named in honor of Andrea Cesalpino (1519-1603) of Italy. Mr. Cesalpino was first a botanist, but also a physician, philosopher and naturalist. The species epithet gilliesii was named in honor of John Wynn Gillespie (1901-1932). According to Michael L. Charters excellent on-line site, Mr. Gillespie was a plant collector, explorer and writer of the flora of Fiji.

Ethnobotany

From Wikipedia on-line, "Medicine men of peoples indigenous to the Amazon Rainforest used this plant and the similar Caesalpinia pulcherrima, which they called "ayoowiri"", for curing fever, sores, and cough. Four grams from the root is also said to induce abortion in the first trimester of pregnancy. However, the seeds and the green seed pods of this plant are toxic, provoking severe vomiting and other abdominal symptoms."