Calliandra californica, Baja Fairy Duster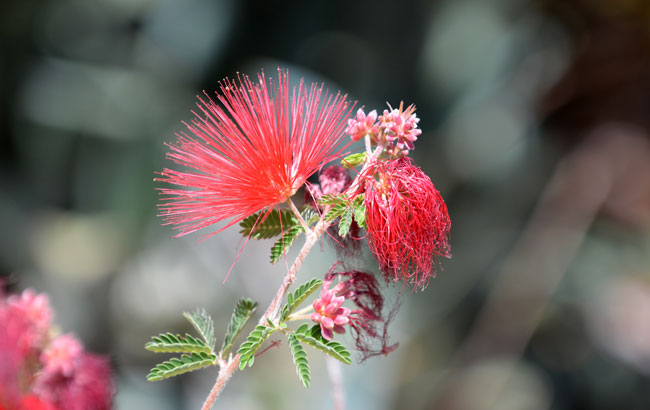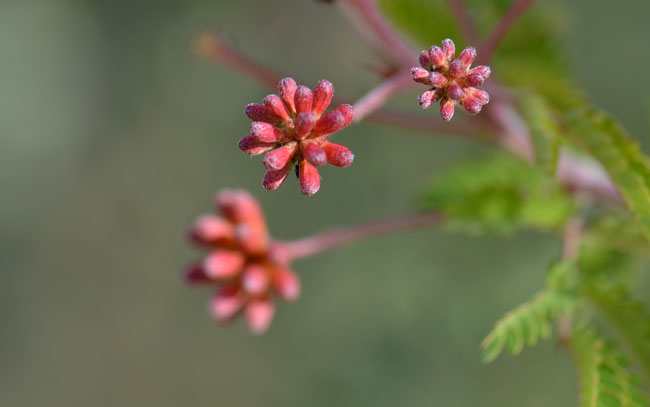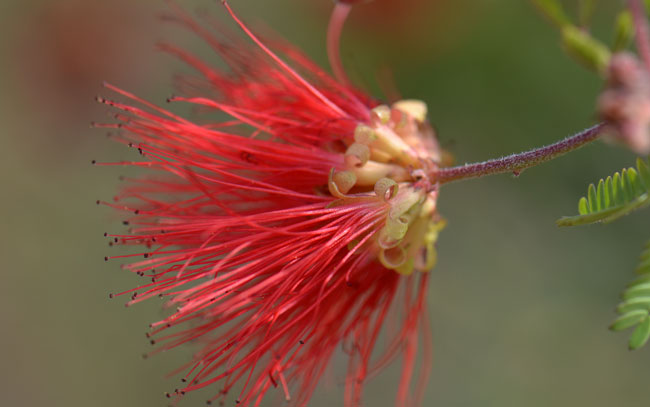 Scientific Name: Calliandra californica
Common Name: Baja Fairy Duster
Also Called: Red Fairy Duster (Spanish: Tabardillo, Cabello de Angel, Cosahui del Sur, Zapotillo, Chuparrosa)
Family: Fabaceae or Leguminosae Family
Synonyms: (Anneslia californica, Anneslia mixta, Anneslia mucronulata and Feuilleea californica)
Status: Native to the Cape Region of Baja California, Mexico.
Duration: Perennial
Size: Up to 5 feet or more, 4 to 5 foot width. Up to 5 feet or more.
Growth Form: Shrub, evergreen.
Leaves: Green; alternate, bipinnately, compound; feathery, close at night; leaflets narrowly ovate to lanceolate.
Flower Color: Red; showy tufted rounded flowers in both terminal and axillary clusters; may bloom year-round, stamens bright red; fruit 3 inch long legume, flattened, persisting on branches, pods open explosively ejecting seeds.
Flowering Season: Late spring, early summer but may bloom year-round.
Elevation: 70 feet to ?

Habitat Preferences: Unknown.

Recorded Range: Baja California and northern Mexico.

North America & US County Distribution Map for Calliandra californica.

U.S. Weed Information: No information available.
Invasive/Noxious Weed Information: No information available.
Wetland Indicator: No information available.
Threatened/Endangered Information: No information available.

Genus Information: 13 native and non-native species in the United States, 2 native species in Arizona. The genus Calliandra has 157 accepted species names and belongs to the sub-family Mimosoideae which also includes Acacia and Mimosa. Common names of genus Calliandra; Powder-puff, Powder Puff Plant, and Fairy Duster

Comments: Baja Fairy Duster is native to North America but not to the United States. It is however a premier landscape plant in parts of the southwest. It readily attracts hummingbirds and is one of several plants hosting the Marine Blue caterpillar (Leptotes marina).

Also see in Southwest Desert Flora; Arizona native Fairyduster, Calliandra eriophylla.