Calliandra eriophylla, Fairyduster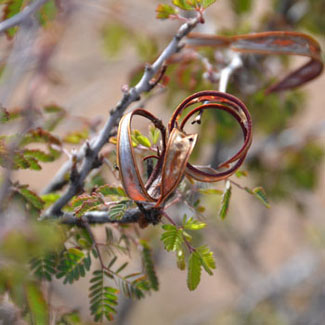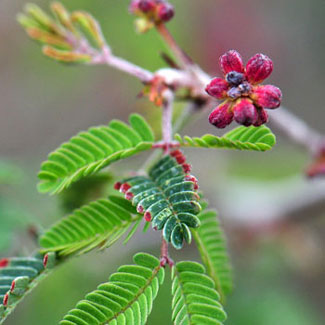 Scientific Name: Calliandra eriophylla
Common Name: Fairyduster
Also Called: Fairy Duster, False Mesquite, Hairy-Leaved Calliandra, Mock Mesquite, Mesquitella, Pink-flowered Acacia, Pink Mimosa, Stickpea (Spanish: Huajillo, Mezquitillo, Cosahui, Pelo de Angel, Cabeza de Angel)
Family: Fabaceae or Leguminosae Family
Synonyms: (Calliandra eriophylla var. chamaedrys, Calliandra eriophylla var. eriophylla)
Status: Native
Duration: Perennial
Size: Up to 2 feet, usually less, 2 or more feet wide.
Growth Form: Shrub or subshrub; without thorns low-growing, multiple straggling branches.
Leaves: Green or gray-green from pubescence; alternate, compound with bipinnate leaves; leaflets ferny.
Flower Color: Pink, whitish or purplish-red; long exserted stamens; flowers few, showy, open fluffy shaped pink balls, up to 2 inches; fruit re-curving flat dehiscent legume, margins thickened.
Flowering Season: February to May.
Elevation: 5,000 feet or lower.

Habitat Preferences: Dry gravelly slopes and mesas.

Recorded Range: In the United States, Fairyduster is found in the southwest states of; AZ, CA, NM and TX. In Arizona it is found throughout most of the state with few records in Apache and Navajo Counties. It is also native to Baja California and northern Mexico.

North America & US County Distribution Map for Calliandra eriophylla.

U.S. Weed Information: No information available.
Invasive/Noxious Weed Information: No information available.
Wetland Indicator: No information available.
Threatened/Endangered Information: No information available.

Genus Information: 13 native and non-native species in the United States, 2 native species in Arizona. The genus Calliandra has 157 accepted species names and belongs to the sub-family Mimosoideae which also includes Acacia and Mimosa.

Comments: Fairyduster is common where found and an important landscape plant in the southwest as they are attractive, although somewhat inconspicuous at the same time, and thrive in extreme heat. Once established, Fairyduster needs very little water to maintain a healthy appearance. The scientific name "Calliandra" translates to beautiful stamens.

Also see in Southwest Desert Flora; Baja Fairy Duster, Calliandra californica.

A decoction of the leaves and stems were taken after childbirth. See ethno-botanical uses at Native American Ethnobotany, University of Michigan, Dearborn.