Coursetia glandulosa, Rosary Babybonnets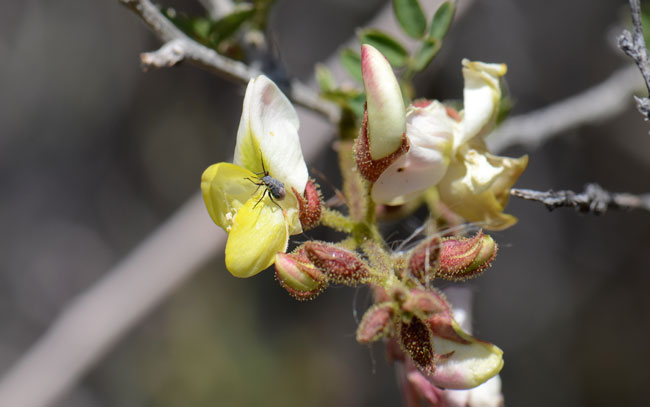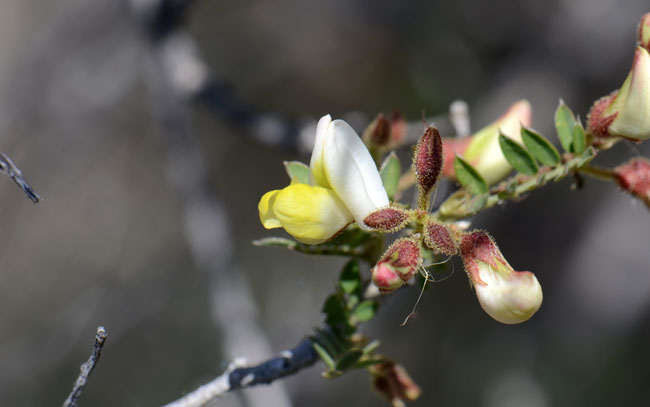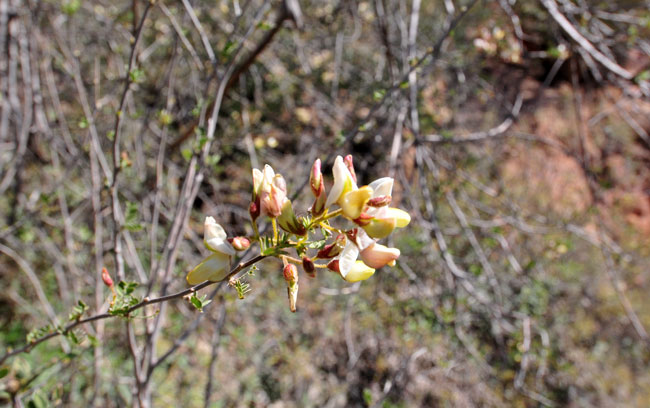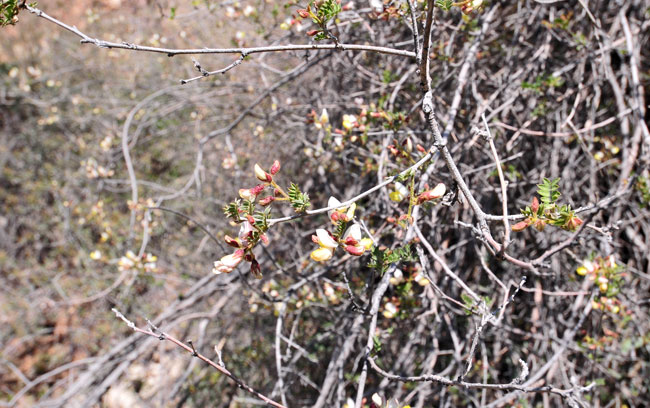 Scientific Name: Coursetia glandulosa
Common Name: Rosary Babybonnets
Also Called: Baby Bonnets, Coursetia (Spanish: Samota, Samo Prieto, Chino, Cousamo, Cousano, (Tepe) Chipile)
Family: Fabaceae or Leguminosae Family.
Synonyms: (Coursetia microphylla)
Status: Native
Duration: Perennial
Size: Up to 20 feet or more.
Growth Form: Shrub; deciduous.
Leaves: Green; compound pinnate leaves.
Flower Color: White, pink and yellow; fruit a legume with narrow pods.
Flowering Season: March to April.
Elevation: 4,000 feet or lower.

Habitat Preferences: Canyons and dry rocky slopes.

Recorded Range: Rosary Babybonnets is rare in the United States where it is found only in central, southern and southwestern parts of the state. It is also native to Baja California and northern and central Mexico.

North America & US County Distribution Map for Coursetia glandulosa.

U.S. Weed Information: No information available.
Invasive/Noxious Weed Information: No information available.
Wetland Indicator: No information available.
Threatened/Endangered Information: No information available.

Genus Information: 4 species in Coursetia in the United States. 3 species found in Arizona. The genus Coursetia belongs to the subfamily Faboideae (also known as Papilionoideae, or Papilionaceae) which also includes Astragalus and Lupinus.
The genus Coursetia has 40 accepted species names.

Comments: The stems of Rosary Babybonnets are sometimes heavily encrusted with an orange-colored resin, as result of and infestation by an insect of the genus Tachardia

The genus Coursetia is named for French botanist Georges Louis Marie Dumont de Courset (1746–1824).

The transparent yellowish-brown gum from Coursetia is mixed with adobe and used to make jars of syrup air tight. See ethno-botanical uses at Native American Ethnobotany, University of Michigan, Dearborn.