Dalea formosa, Indigobush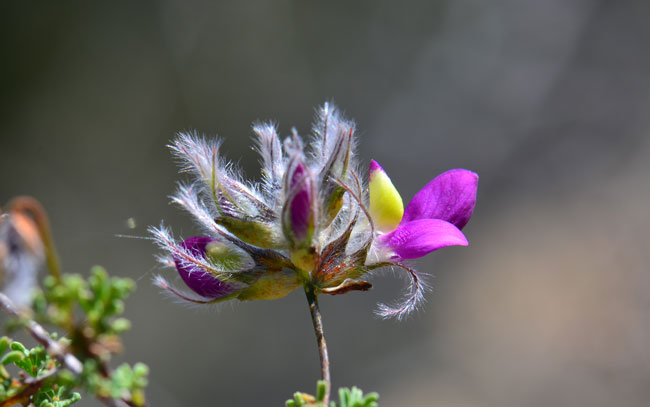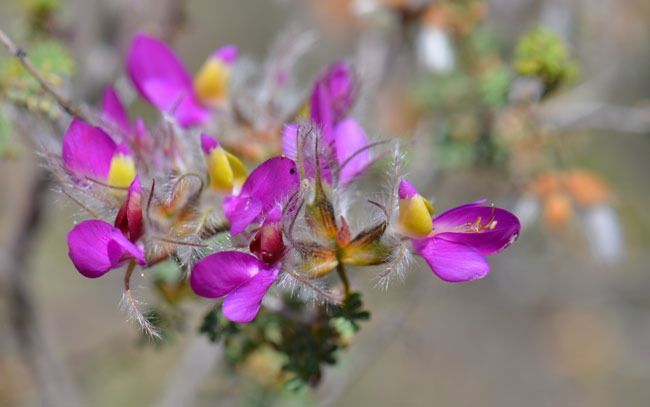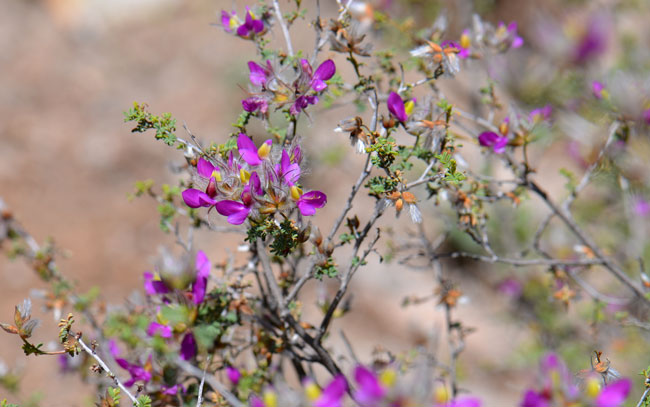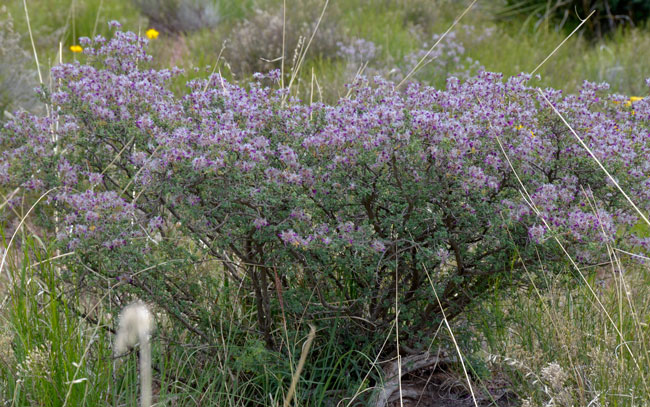 Scientific Name: Dalea formosa
Common Name: Indigobush
Also Called: Feather Dalea, Feather Indigo, Feather Plume, Featherplume, Feathery Dalea Pea Bush, (Spanish: Yerba de Alonso García)
Family: Fabaceae or Leguminosae Family
Synonyms: (Parosela formosa)
Status: Native
Duration: Perennial
Size: Up to 3 feet or more (6 feet).
Growth Form: Shrub or subshrub; low-growing, woody, without thorns; scraggly.
Leaves: Green or light-green; odd pinnately compound; leaflets gland-dotted, small and delicate; may form colonies.
Flower Color: Purple and pink with yellow throat, some violet; showy, spectacular, short spike-like clusters; flowers somewhat fuzzy and feathery in appearance; fruit is a small indehiscent legume.
Flowering Season: March to June, also blooms again after monsoon rainfall; blooms through September in Texas.
Elevation: 2,000 to 6,500 feet.

Habitat Preferences: Rocky hillsides, rocky areas and mountains.

Recorded Range: Dalea formosa is found in the southwest in AZ, CO, NM, OK and TX. It is also native to northern and north-eastern Mexico.

North America & US County Distribution Map for Dalea formosa.

U.S. Weed Information: No information available.
Invasive/Noxious Weed Information: No information available.
Wetland Indicator: No information available.
Threatened/Endangered Information: No information available.

Genus Information: 70 species in Dalea in the United States, Mexico and Canada. Approximately 30 species in Arizona. The Plant List includes 183 accepted species names.

Comments: Indigobush or Feathery Dalea may be used as an easy to grow, low maintenance ornamental as a low-growing ground-cover on sunny-slopes.

Also see in Southwest Desert Flora; Whiteflower Prairie Clover, Dalea albiflora and Soft Prairie Clover, Dalea mollissima.

An infusion of leaves has been used as an emetic before breakfast by the Acoma and Laguna Native American. Other uses have also been identified. For a complete listing see ethno-botanical uses at Native American Ethnobotany, University of Michigan, Dearborn.