Dalea mollissima, Soft Prairie Clover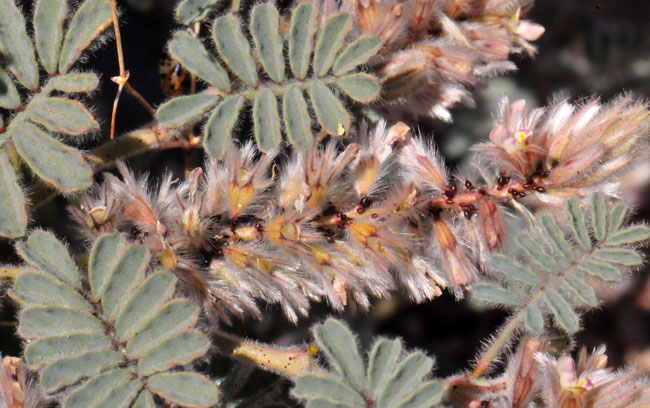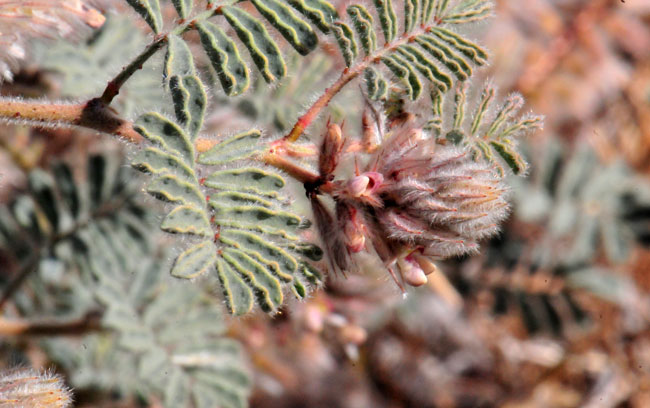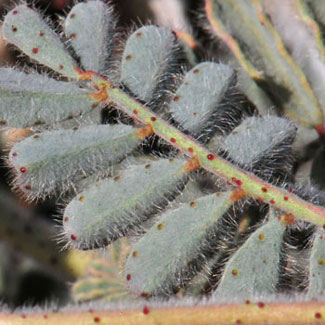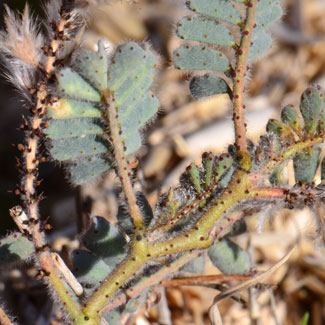 Scientific Name: Dalea mollissima
Common Name: Soft Prairie Clover
Also Called: Downy Dalea or Hairy Dalea
Family: Fabaceae or Leguminosae Family
Synonyms: (Dalea mollis var. mollissima, Dalea neomexicana subsp. mollissima)
Status: Native.
Duration: Annual or perennial.
Size: Low-growing, mat forming.
Growth Form: Forb/herb; sprawling, mat-forming, patches, plants with soft hairy pubescence.
Leaves: Green or grayish-green; heavy pubescence, compound, pinnate, leaflets obovate-oblong, fuzz-covered, folded along midrib, leaf tips shallowly lobed and wavy (see photo above).
Flower Color: White, whitish or lavender; flowers pea-like, fruit a legume with one seed.
Flowering Season: December to May
Elevation: Up to 4,000 feet.

Habitat Preferences: Sandy deserts and dry grassland.

Recorded Range: Dalea mollisima is relatively rare in the United States where it is native to AZ, CA and NV. In Arizona it occurs in the central and southwestern parts of the state and in the southeast corners of CA and NV.

North America & US County Distribution Map for Dalea mollissima.

U.S. Weed Information: No information available.
Invasive/Noxious Weed Information: No information available.
Wetland Indicator: No information available.
Threatened/Endangered Information: No information available.

Genus Information: 70 species in Dalea in the United States, Mexico and Canada. Approximately 30 species in Arizona. The Plant List includes 183 accepted species names.

Comments: Soft Prairie Clover is similar in appearance to Dalea mollis, but the pubescence of Soft Prairie Clover has thinner, downier hairs.

Also see in Southwest Desert Flora; Whiteflower Prairie Clover, Dalea albiflora and Indigobush, Dalea formosa.