Desmodium batocaulon, San Pedro Ticktrefoil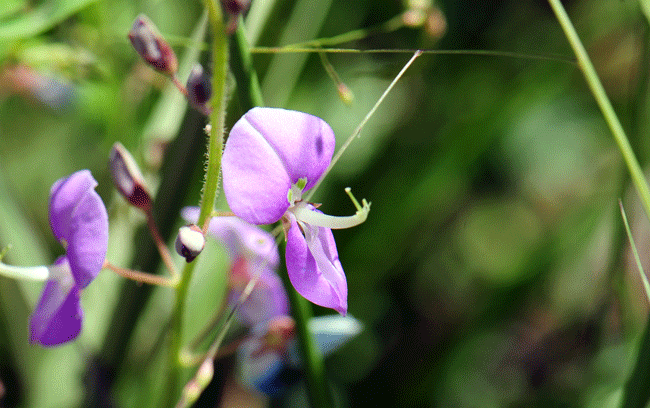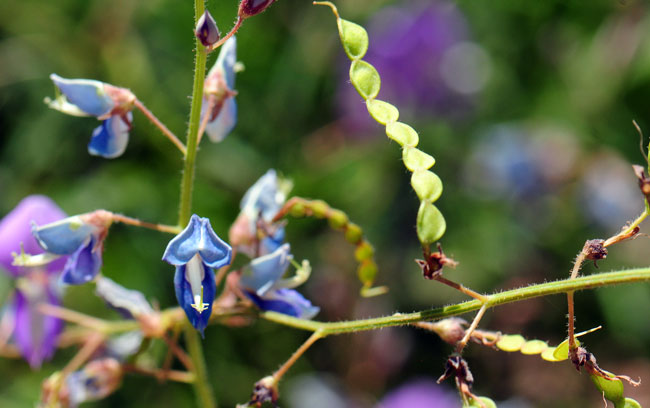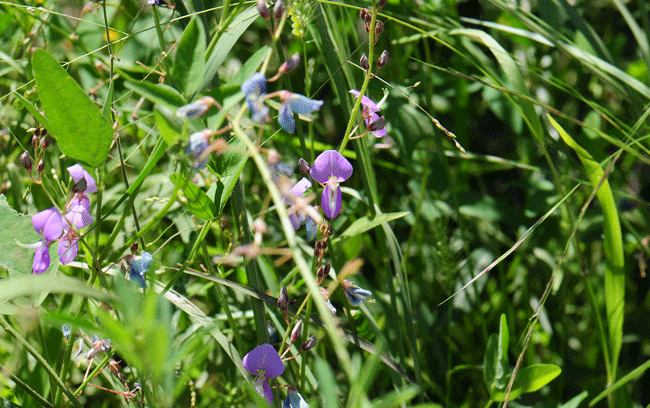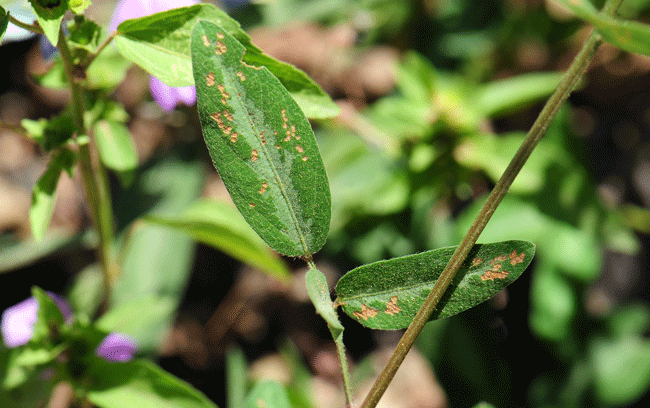 Scientific Name: Desmodium batocaulon
Common Name: San Pedro Ticktrefoil
Also Called: Bushy Tick Clover, San Pedro Tick Trefoil, Tick Clover
Family: Fabaceae or Leguminosae Family
Synonyms: (Meibomia batocaulis)
Status: Native
Duration: Perennial
Size: Low growing sprawling species.
Growth Form: Forb/herb; taproot; stems from woody crown, erect, spreading or decumbent, trailing.
Leaves: Green, light green blotch around prominent midrib surrounded by darker green blotch; alternate, trifoliate, shape variable lanceolate to ovate, petiolate.
Flower Color: Blue, lavender, purple or violet; on the small size but still quite showy, zygomorphic, legume fruit pod is sparsely pubescent or glabrous, constricted (lomentum see photo above.
Flowering Season: June to September, blooms following summer monsoons.
Elevation: 3,000 to 6,500 feet.

Habitat Preferences: Mid- to upper-elevations, common in pine woods.

Recorded Range: Desmodium batocaulon in found in AZ, NM and possible TX (1892. Bulletin of the Torrey Botanical Club). It is also native to northern and parts of central Mexico.
North America & US County Distribution Map for Desmodium batocaulon.
U.S. Weed Information: No information available.
Invasive/Noxious Weed Information: No information available.
Wetland Indicator: No information available.
Threatened/Endangered Information: No information available.
Genus Information: More than 75 species in Desmodium in the United States, Canada and Mexico. Desmodium in for in the eastern half of the United States and Canada and Arizona (Maricopa and Pima Counties) represents the western most location of this species. Approximately 14 species in Arizona. In Arizona Desmodium batocaulon is found in the central and southern portions of the state with few records in Pinal County.
The Plant List includes 326 accepted species names for Desmodium.
Comments: Desmodium as a whole are referred to as the Tick-clovers and less commonly as Beggar-ticks which are much more commonly applied to the genus Bidens. The Type specimen of Desmodium batocaulon is from the San Pedro River (Charles Wright (1811-1885, American botanist).
San Pedro Ticktrefoil is found at middle to upper elevations.