Hoffmannseggia glauca, Indian Rushpea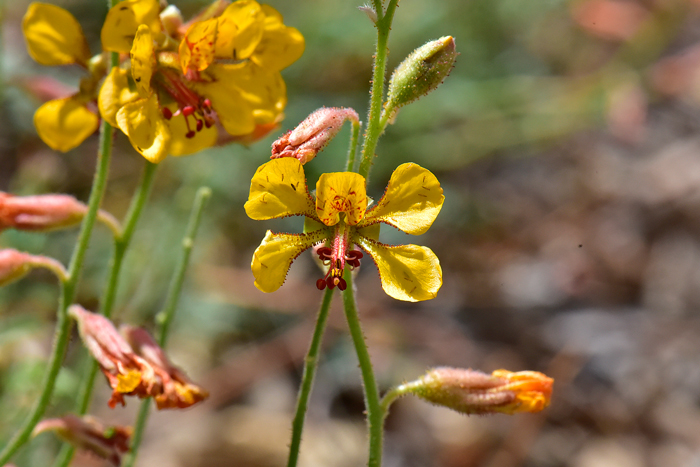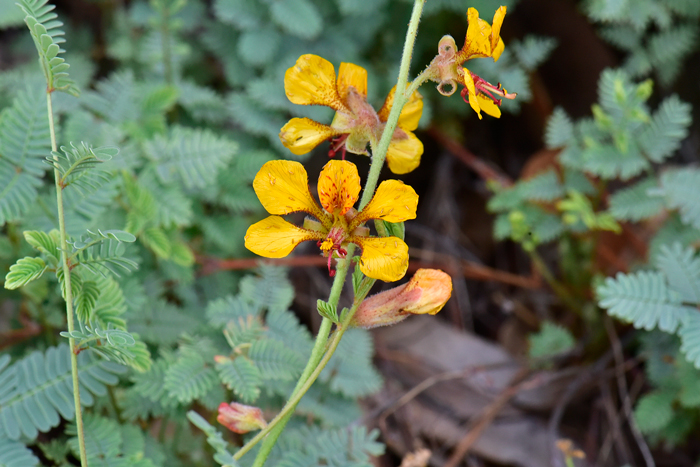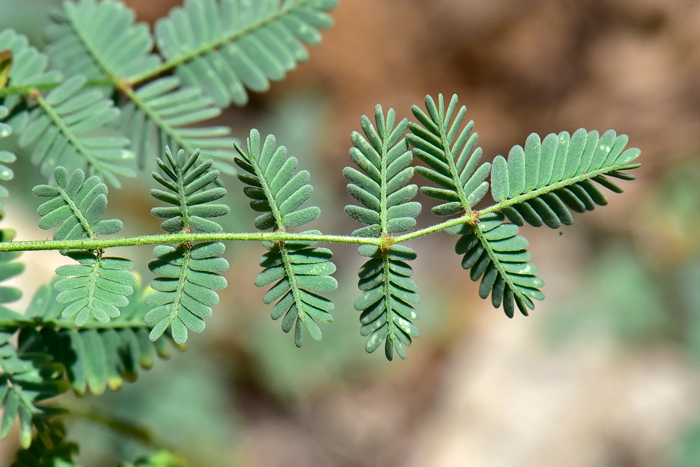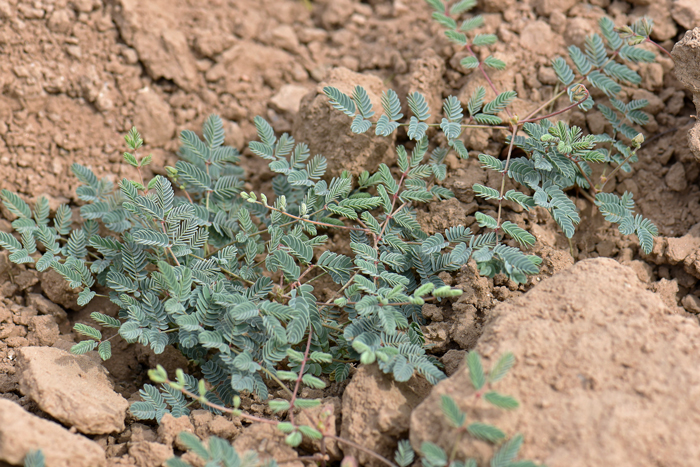 Scientific Name: Hoffmannseggia glauca
Common Name: Indian Rushpea
Also Called: Hog Potato, Pignut, Shoestring Weed, Spanish: Camote de Ratón)
Family: Fabaceae or Leguminosae Family
Synonyms: (Hoffmannseggia densiflora, Hoffmannseggia densiflora var. capitata, Hoffmannseggia densiflora var. demissa, Hoffmannseggia densiflora var. pringlei, Hoffmannseggia densiflora var. stricta, Hoffmannseggia falcaria, Hoffmannseggia falcaria var. stricta, Larrea glauca)
Status: Native
Duration: Perennial
Size: 12 inches or usually less.
Growth Form: Forb/herb, subshrub; plants low growing and erect; deep tuberous roots; plants typically grow in patches.
Leaves: Green; bipinnate, 4 to 13 leaflets; leaves are glabrous or or minutely puberulous.
Flower Color: Yellow, with orange and red; inflorescence a raceme often above leaves; flowering stalk glandular, flower petals 5, spreading; flowers not perfectly radially-symmetrical; fruits curved.
Flowering Season: April to September; April to June in California.
Elevation: Below 5,000 feet.

Habitat Preferences: Dry alkaline desert soils, roadsides, irrigation areas, disturbed areas.

Recorded Range: Indian Rushpea is found mostly in the southwestern United States in; AZ, CA, CO, KS, NM, NV OK, TX, UT. It is also native to Baja California and Mexico.

North America & US County Distribution Map for Hoffmannseggia glauca.

U.S. Weed Information: In North America Hoffmannseggia glauca can be weedy or invasive according to State noxious weed lists for 46 states and the following authoritative sources: Weeds of the United States and Canada. Weeds of the West. Plants included here may become weedy or invasive.

Invasive/Noxious Weed Information: In North America Hoffmannseggia glauca is listed as a Noxious Weed by the state of Kansas. Plants included here are invasive or noxious.

Wetland Indicator: In North America Hoffmannseggia glauca has the following wetland designations: Arid West, FACU; Atlantic and Gulf Coastal Plain, FAC; Great Plains, FAC; Midwest, FACU; Western Mountains, Valleys, and Coast, FACU.
FACU = Facultative Upland, usually occur in non-wetlands, but may occur in wetlands
FAC = Facultative, occur in wetlands and non-wetlands.

Threatened/Endangered Information: No information available.

Genus Information: In North America there are 7 species and 7 accepted taxa overall for Hoffmannseggia. Worldwide, The Plant List includes 29 accepted species names and a further 18 of infraspecific rank for the genus.

In the Southwestern United States: Arizona has 3 species of genus, California has 2 species, Nevada has 1 species, New Mexico has 3 species, Texas has 5 species, Utah has 1 species. All data is approximate and subject to taxonomic changes.

Comments: In Southwest Desert Flora also see: Wand Holdback, Hoffmannseggia microphylla.

Hoffmannseggia has been used for food and traded by southwestern United States indigenous peoples.
Apache Food, Unspecified; Potatoes roasted and eaten much more commonly in the past than currently.
Apache, Chiricahua & Mescalero Food, Unspecified; Roots eaten either raw or cooked.
Pima Food, Vegetable; Tubers boiled and eaten like potatoes.
Pueblo Food, Unspecified; Potatoes roasted and eaten much more commonly in the past than currently.
Pima, Gila River Food, Unspecified; Tubers eaten.

See complete listing of ethno-botanical uses at Native American Ethnobotany, University of Michigan, Dearborn.