Lotus corniculatus, Bird's Foot Trefoil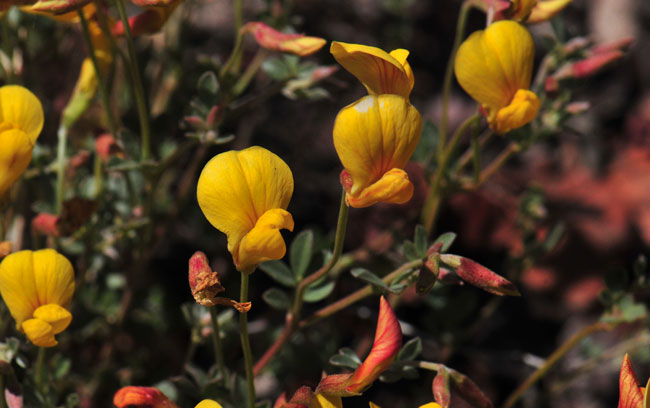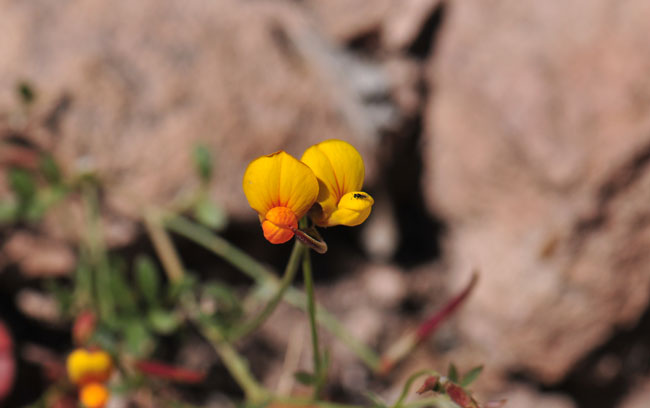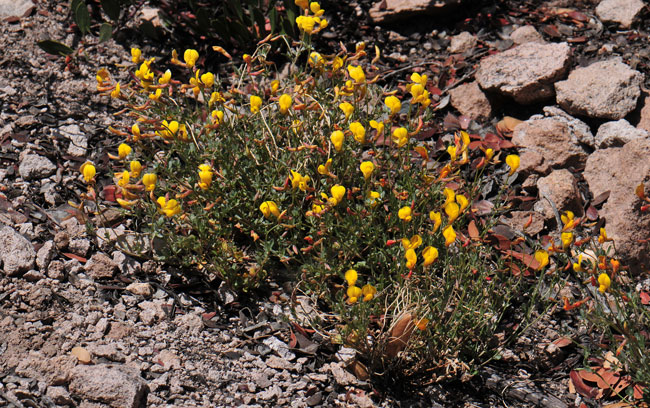 Scientific Name: Lotus corniculatus
Common Name: Bird's Foot Trefoil
Also Called: Birdfoot Deervetch, Bird's Foot Trefoil, Birdsfoot Trefoil, Bloomfell, Cat's Clover, Crowtoes, Garden Birdsfoot Trefoil, Garden Bird's-foot-trefoil, Ground Honeysuckle
Family: Fabaceae or Leguminosae Family
Synonyms: (Lotus corniculatus var. arvensis)
Status: Introduced, native to grassland in temperate Eurasia and North Africa.
Duration: Perennial
Size: Up to 8 inches more or less.
Growth Form: Forb/herb; stems decumbent or ascending; glabrous or strigose.
Leaves: Green; compound, odd 1 pinnate, leaflets linear to obovate; gland-like stipules.
Flower Color: Yellow, bright yellow; corolla bright yellow; fruit a narrowly oblong dehiscent legume.
Flowering Season: June to September.
Elevation: Below 3,000 feet.

Habitat Preferences: Open, disturbed areas, often in sandy soils.

Recorded Range: Introduced throughout most of North America.

North America & US County Distribution Map for Lotus corniculatus.

U.S. Weed Information: Lotus corniculatus, Bird's Foot Trefoil is listed in; Weeds of the Northeast and Weeds of Nebraska and the Great Plains. Plants included here may become weedy or invasive.

Invasive/Noxious Weed Information: Lotus corniculatus is listed by the University of Georgia, Center for Invasive Species and Ecosystem Health.

Wetland Indicator: In North America Lotus corniculatus, Bird's Foot Trefoil has the following wetland designations;
Arid West, FAC;
Atlantic and Gulf Coastal Plain, FACU;
Eastern Mountains and Piedmont, FACU;
Great Plains, FACU;
Midwest, FACU;
Northcentral & Northeast, FACU;
Western Mountains, Valleys, and Coast, FAC.
FACW, Facultative Wetland, usually occur in wetlands, but may occur in non-wetlands
FAC, Facultative, occur in wetlands and non-wetlands
FACU, Facultative Upland, usually occur in non-wetlands, but may occur in wetlands
UPL, Obligate Upland, almost never occur in wetlands.

Threatened/Endangered Information: No information available.

Genus Information: More than 70 species in Lotus in the contiguous United States, Canada and Mexico. Approximately 15 species in Arizona. The Plant List includes 504 scientific plant names of species rank for the genus Lotus. Of these 140 are accepted species names.

The genus Lotus is under current taxonomic review and many species are now classified under the genus Acmispon.

4 varieties in Lotus corniculatus 1 variety in the range recorded above:
Lotus corniculatus var. corniculatus, Bird's-foot Trefoil.

Comments: Photos above taken March 25, north of Superior, AZ, in the Tonto National Forest, Maricopa County.

Although listed as an introduced species, Lotus corniculatus is cultivated in North America under the name Birdfoot Deervetch. Lotus corniculatus has acquired several common names some of which are also used for other Lotus species.

Also see in Southwest Desert Flora; Foothill Deervetch, Lotus humistratus; Shrubby Deervetch, Lotus rigidus, Coastal Bird's-foot Trefoil, Lotus salsuginosus and Wright's Deervetch, Lotus wrightii.

Bird's Foot Trefoil is known to attract Bumblebees (genus Bombus, family Apidae).