Lotus humistratus, Foothill Deervetch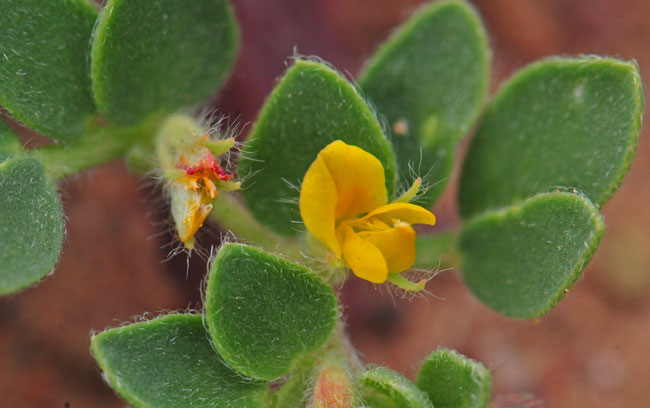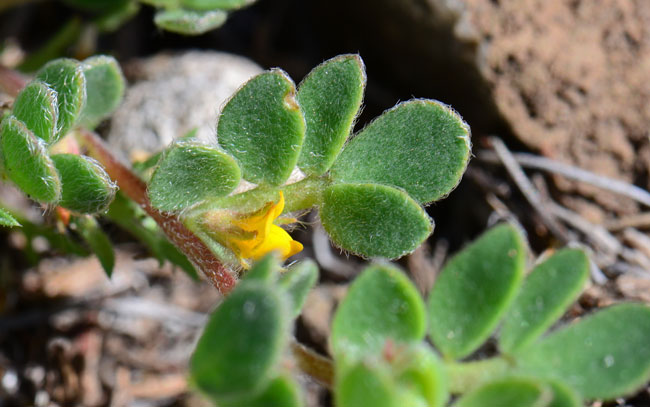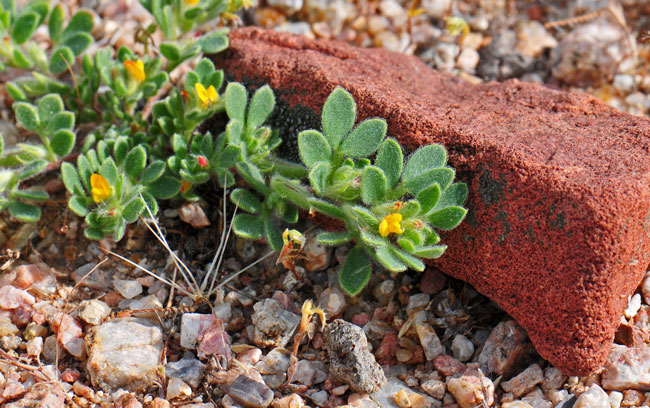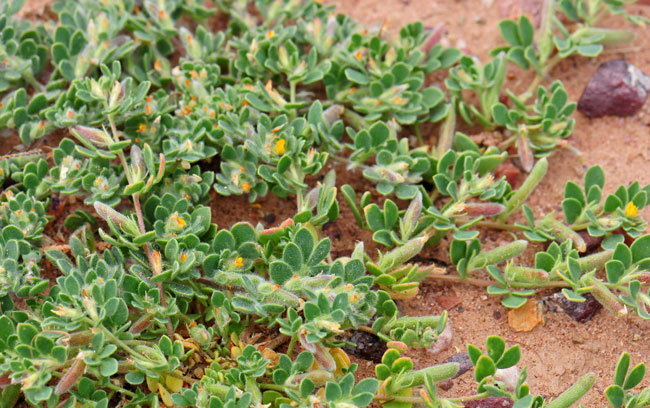 Scientific Name: Lotus humistratus
Common Name: Foothill Deervetch
Also Called: Foothill Bird's-foot Trefoil, Hairy Deer Vetch, Hill Locust and Maresfat
Family: Fabaceae or Leguminosae Family
Synonyms: (Acmispon brachycarpus, Hosackia brachycarpa)
Status: Native
Duration: Annual
Size: Up to 4 inches more or less.
Growth Form: Forb/herb; prostrate, fleshy, pubescent, forms mat or may be ascending.
Leaves: Green; pubescence is soft-villous; alternate, prostrate, sub-pinnate or palmate, leaflets very narrowly ovate.
Flower Color: Yellow or orange; small pea-like flowers, solitary, inflorescence sessile from axils, fruit a dehiscent legume.
Flowering Season: March to June.
Elevation: 5,000 feet or usually lower.
Habitat Preferences: Low to middle elevations, variable habitat types, dry ground, grassland, oak, pine-woodland, very common on sandy deserts and roadsides.
Recorded Range: In the United States, Lotus humistratus is native to the west and southwest in AZ, CA, ID, NM, NV, OR, TX and UT. It is also native to Baja California and northern Mexico.
North America & US County Distribution Map for Lotus humistratus.
U.S. Weed Information: No information available.
Invasive/Noxious Weed Information: No information available.
Wetland Indicator: No information available.
Threatened/Endangered Information: No information available.
Genus Information: More than 70 species in Lotus in the contiguous United States, Canada and Mexico. Approximately 15 species in Arizona.
The Plant List includes 504 scientific plant names of species rank for the genus Lotus. Of these 140 are accepted species names.
The genus Lotus is under current taxonomic review and many species are now classified under the genus Acmispon. Lotus humistratus is now also recognized as Acmispon brachycarpus.
Comments: Foothills Deervetch is a common Lotus found in both lower and middle elevations. This species, and other members of the genus Lotus, are also recognized under the genus name "Acmispon".
Also see in Southwest Desert Flora; Bird's Foot Trefoil, Lotus corniculatus; Shrubby Deervetch, Lotus rigidus, Coastal Bird's-foot Trefoil, Lotus salsuginosus and Wright's Deervetch, Lotus wrightii.
An Infusion of Lotus humistratus was taken and used as a wash by women in labor. See ethno-botanical uses at Native American Ethnobotany, University of Michigan, Dearborn.