Medicago polymorpha, Burclover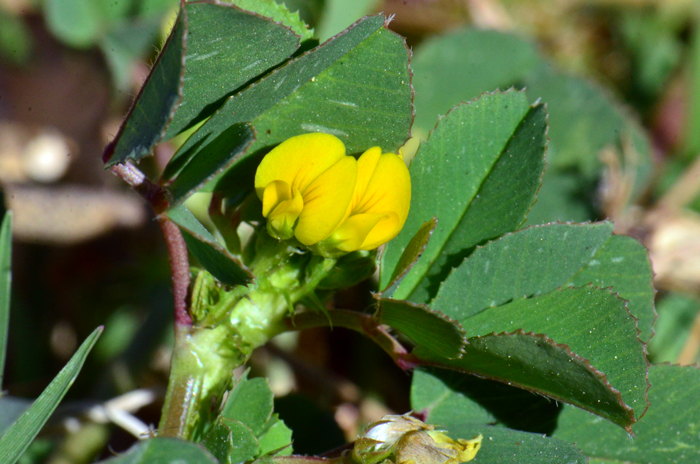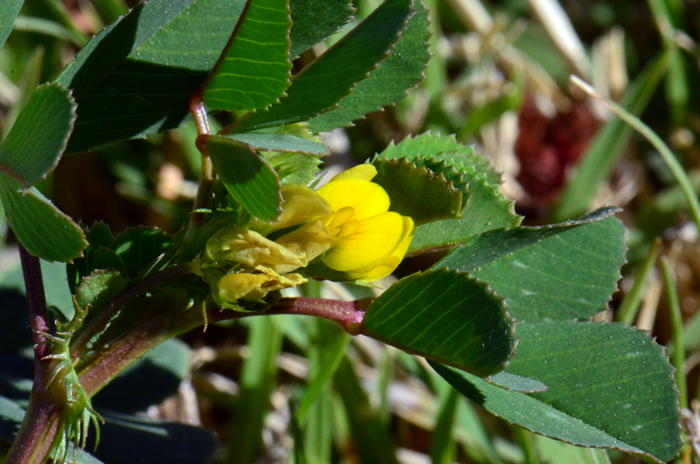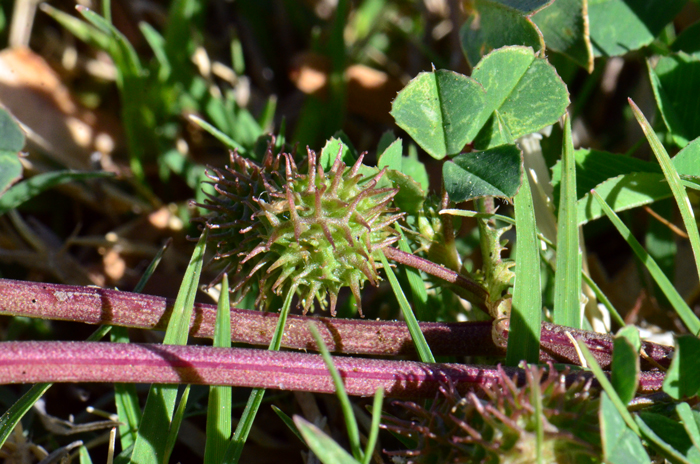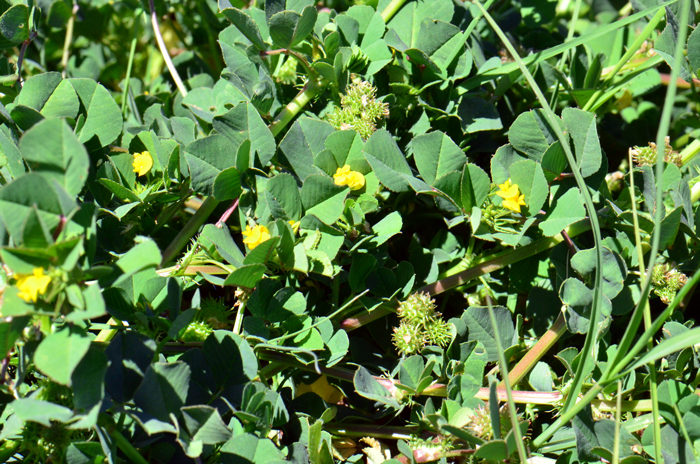 Scientific Name: Medicago polymorpha
Common Name: Burclover

Also Called: Bur-clover, Burr Medic, California Burclover, Toothed Bur Clover, Toothed Medick

Family: Fabaceae or Leguminosae Family

Synonyms: (Medicago apiculata, Medicago denticulata, Medicago hispida (+ 4 var.), Medicago lappacea, Medicago polycarpa (+ 6 var.))

Status: Introduced from Europe; naturalized and widely established where found.

Duration: Annual or perennial; broad-leaf plant; plants prostrate, mat-forming or often with ascending multiple branches; stems and foliage glabrous.

Size: Up to 2 feet (60 cm) long, tends to travel along substrate, horizontally or vertically.

Growth Form: Forb/herb; common and widely established.

Leaves: Green; leaves divided into three round leaflets (trifoliolate or trifoliate), leaflets dentate or serrated, wedge-shaped to obcordate; leaf stipules generally cut; leaves often with reddish-tinged midribs.

Flower Color: Yellow, bright yellow, small, flowers from axils cluster into heads at stem tips; fruit a brown pod coiled 2 to 6 turns, the coils are smooth or with 2 to 3 rows of prickles, the prickles often with tiny hooks on the ends.

Flowering Season: March to June or July

Elevation: Below 5,000 feet (1,500 m)

Habitat Preferences: Chaparral, oak woodland, streambanks, roadsides, disturbed areas, fields, grasslands, pastures, agricultural lands (especially alfalfa fields) and lawns.

Recorded Range: Widespread throughout the southern, western and eastern shoreline. Also found in Alaska and most of Canada.

North America & US County Distribution Map for Medicago polymorpha.

U.S. Weed Information: In North America Medicago polymorpha can be weedy or invasive according to the following authoritative sources: Medicago polymorpha, California Burclover; Introduced, Alaska, Hawaii and Canada. Plants included here may become weedy or invasive.

Invasive/Noxious Weed Information: In North America Medicago polymorpha is listed as a Noxious Weed by the federal government and/or a State. Arizona, Burclover, Prohibited, Noxious Weed and Burclover and Regulated Noxious Weeds. Plants included here are invasive or noxious.

Wetland Indicator: In North America Medicago polymorpha has the following wetland designations: Alaska, FACU; Arid West, FACU; Atlantic and Gulf Coastal Plain, FACU; Eastern Mountains and Piedmont, FACU; Great Plains, FACU; Midwest, FACU; Northcentral & Northeast, FACU; Western Mountains, Valleys, and Coast, FACU.
FACU = Facultative Upland, usually occur in non-wetlands, but may occur in wetlands.

Threatened/Endangered Information: No information available.

Genus Information: In North America there are 38 species and x accepted taxa overall for genus. Worldwide, The Plant List includes 103 accepted species names and a further 152 scientific names of infraspecific rank for Medicago polymorpha.

In the Southwestern United States: Arizona has 4 species of Medicago, California has 7 species, Nevada has 3 species, New Mexico has 3 species, Texas has 6 species, Utah has 3 species. All data approximate and subject to revision.

Comments: Burclover is an annual Broadleaf species, a weedy herb that is originally from Europe. It is now naturalized and common where found. Plants are weedy and well adapted to disturbed- and waste-areas. Livestock forage on the plant and may be grown for pasture or a cover crop. The fruit, a nasty burr is spread around as it clings to clothing and/or fur. The clingy fruits are not easily removed from clothing and the prickly fruits may lower the value of wool when they become entangled in the sheep's coat.

Importance to Wildlife and Livestock

Medicago polymorpha is decent forage for livestock with the exception of horses and mules.

In Southwest Desert Flora also see Alfalfa, Medicago sative.

Etymology:

The genus Medicago is from the Greek word "Medlick" or "medick" meaning alfalfa and the species epithet polymorpha means many forms or variable.
The genus Medicago was first published in 1753 by Carl Linnaeus.

Ethnobotany

Medicago polymorpha has been used for food and forage by southwestern United States indigenous peoples.
Cahuilla Food, Porridge, Parched, ground seeds used to make mush.
Mendocino Indian Food, Forage, Dried seed pods eaten by sheep in summer.
Mendocino Indian Food, Forage, Seeds and leaves used as a forage plant.

See complete listing of ethno-botanical uses at Native American Ethnobotany, University of Michigan, Dearborn.