Melilotus indicus, Annual Yellow Sweetclover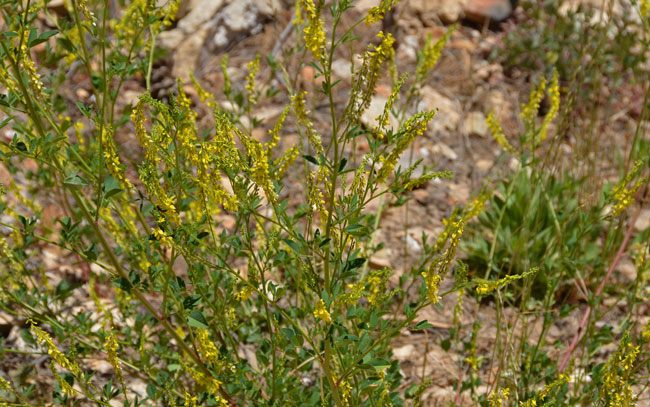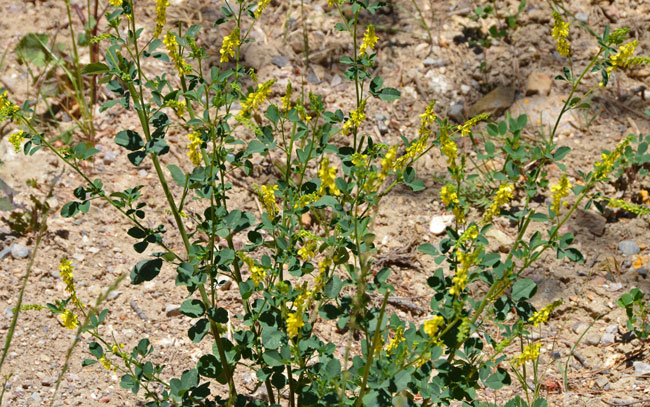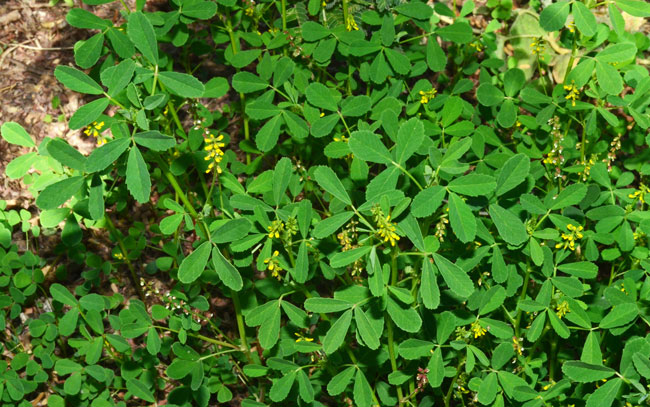 Scientific Name: Melilotus indicus
Common Name: Annual Yellow Sweetclover
Also Called: Common Melilot, Indian Sweet-clover, Small-flowered Sweet Clover, Sour Clover, Sweet Clover, Sweet Melilot (Spanish: Trèbol Agrio, Trèbol Amarillo, Alfalfilla, Meliloto)
Family: Fabaceae or Leguminosae Family
Synonyms: ()
Status: Introduced
Duration: Annual
Size: Up to 20 inches more or less.
Growth Form: Forb/herb; glabrous, stems commonly less than 1 meter long.
Leaves: Green; compound, leaflets variable, oblanceolate to wedge-shape obovate, leaflets sharply dentate.
Flower Color: Yellow; flowering inflorescence slender, flowers not more than 2.5mm long, fruit a legume, 1 seed.
Flowering Season: April to September, blooms through October in California.
Elevation: Below 4,500 feet.

Habitat Preferences: Open disturbed areas; roadsides, ditches and in fields.

Recorded Range: Annual Yellow Sweet-clover is an invasive species in the United States, mostly in all border states. In Arizona it occurs in the west and southern parts of the state.

North America & US County Distribution Map for Melilotus indicus.

U.S. Weed Information: Melilotus indicus is listed in: Weeds of Kentucky and adjacent states: a field guide, Weeds of the Northeast, Weeds of Nebraska and the Great Plains, Weeds of the United States and Canada, and Weeds of the West. Plants included here may become weedy or invasive.

Invasive/Noxious Weed Information: No information available.
Wetland Indicator: In North America Melilotus indicus has the following wetland designations;
Arid West, FACU;
Atlantic and Gulf Coastal Plain, FACU;
Eastern Mountains and Piedmont, FACU;
Great Plains, FACU;
Midwest, FACU;
Northcentral & Northeast, FACU;
Western Mountains, Valleys, and Coast, FACU.
FACU, Facultative Upland, usually occur in non-wetlands, but may occur in wetlands.

Threatened/Endangered Information: No information available.

Genus Information: 14 non-native species in Melilotus in the United States, Canada and Mexico. 2 species in Arizona. The Plant List includes 205 scientific plant names of species rank for the genus Melilotus. Of these 22 are accepted species names.

Comments: Annual Yellow Sweetclover is similar in appearance to Yellow Sweet-clover (Melilotus officinalis) however flowers on Annual Yellow Sweet-clover are smaller, usually not more than 2.5mm long and the stems are commonly less than 1 meter long.

Ethno-botanical uses for Annual Yellow Sweet-clover include use as an insecticide and laxative. See ethno-botanical uses at Native American Ethnobotany, University of Michigan, Dearborn.