Melilotus officinalis, Yellow Sweetclover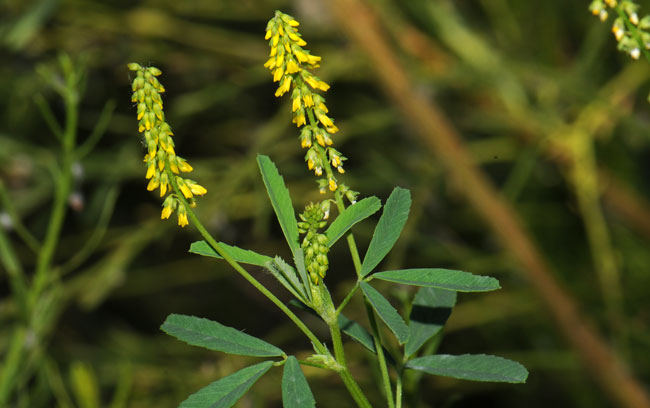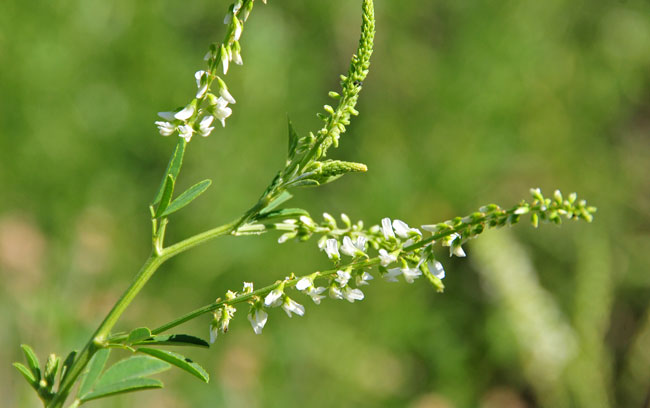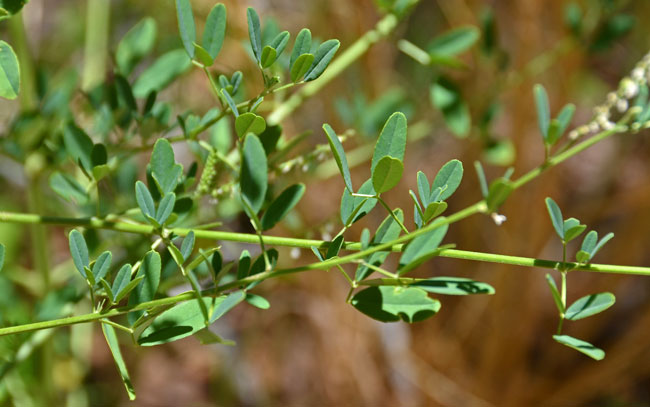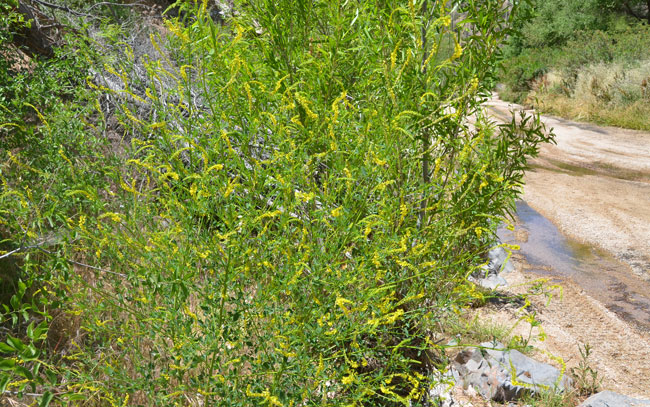 Scientific Name: Melilotus officinalis
Common Name: Yellow Sweetclover
Also Called: Common Melilot, Ribbed Melilot, White Sweetclover, White Sweet-clover, Yellow Melilot, Yellow Sweet-clover
Family: Fabaceae or Leguminosae Family
Synonyms: (Melilotus alba, Melilotus albus, Melilotus albus var. annuus, Melilotus arvensis, Melilotus leucanthus, Melilotus lutea, and Melilotus officinalis var. micranthus)
Status: Introduced; native to Europe and Asia; introduced to North America as a forage crop.
Duration: Annual, biennial or perennial.
Size: Up to 6 feet more or less.
Growth Form: Forb/herb; stems often more than 1 meter long, erect, herbage glabrous to strigose.
Leaves: Green; compound, leaflets elliptic-oblong to obovate, sinuate-dentate or toothed.
Flower Color: Yellow or white; flowering inflorescence slender, small semi-showy flowers not less than 4mm long, fruit a legume, 1 seed.
Flowering Season: July to October, May to August in California.
Elevation: Below 4,500 feet.

Habitat Preferences: Open disturbed areas, roadsides.

Recorded Range: Yellow Sweetclover has been introduced to most of North America Africa and Australia. In Arizona it is found mostly in the eastern two-thirds of the state.
North America & US County Distribution Map for Melilotus officinalis.
U.S. Weed Information: Melilotus officinalis and Melilotus alba are listed as weeds in Kentucky and Wisconsin: Weeds of Kentucky and adjacent states: a field guide; Wisconsin manual of control recommendations for ecologically invasive plants; and are listed as weeds in: Weeds of Nebraska and the Great Plains, Invasive exotic pest plants in Tennessee, Weeds of the United States and Canada and Weeds of the West. Plants included here may become weedy or invasive.

Invasive/Noxious Weed Information: No information available.

Wetland Indicator: In North America Melilotus officinalis and synonyms has the following wetland designations:
Alaska, FACU;
Arid West, FACU;
Atlantic and Gulf Coastal Plain, FACU;
Eastern Mountains and Piedmont, FACU;
Great Plains, FACU;
Midwest, FACU;
Northcentral & Northeast, FACU;
Western Mountains, Valleys, and Coast, FACU.
FACU, Facultative Upland, usually occur in non-wetlands, but may occur in wetlands.
Genus Information: 14 non-native species in Melilotus in the United States, Canada and Mexico. 2 species in Arizona.
The Plant List includes 205 scientific plant names of species rank for the genus Melilotus. Of these 22 are accepted species names.
Comments: Yellow Sweetclover is very similar in appearance to Annual Yellow Sweet-clover (Melilotus indicus) however flowers on Yellow Sweet-clover are larger, usually not less than 4mm long and the stems are more than 1 meter long.
The earliest properly documented Yellow Sweetclover was reported in Virginia in 1739, however, Yellow Sweetclover was reportedly introduced in North America by 1664 just not identified. And the first evidence of White Sweetclover was collected in 1817 by a botanist in northern Nevada and Utah.
Several ethno-botanical uses have been identified for Yellow Sweetclover including: infusion taken and used as a lotion for colds caused by becoming chilled, plants used in beds as a bed-bug repellent and nutritious plants are used as food for horses. See ethno-botanical uses at Native American Ethnobotany, University of Michigan, Dearborn.