Mimosa aculeaticarpa biuncifera, Catclaw Mimosa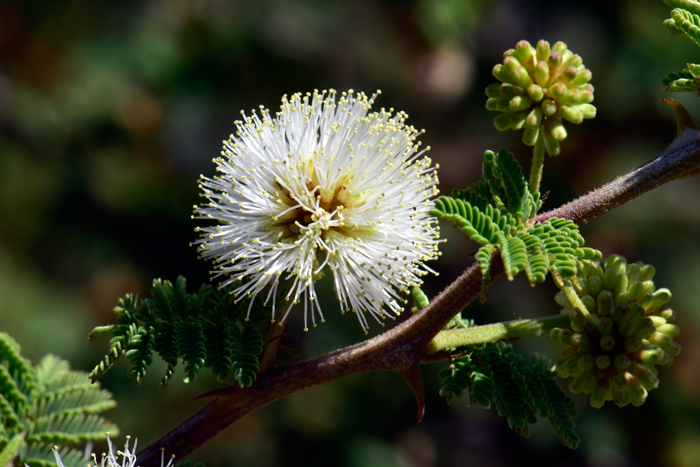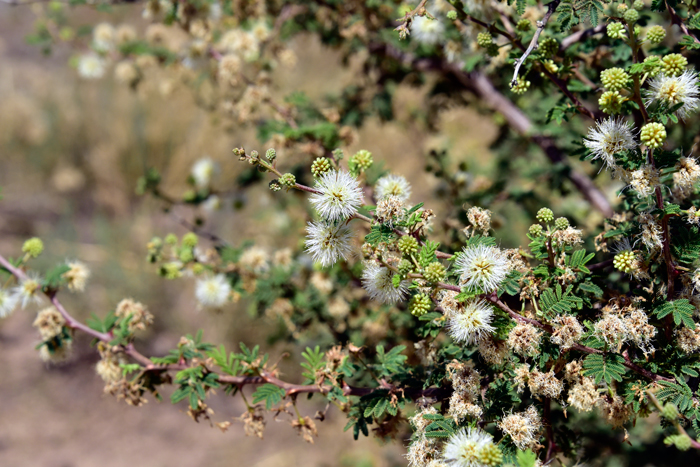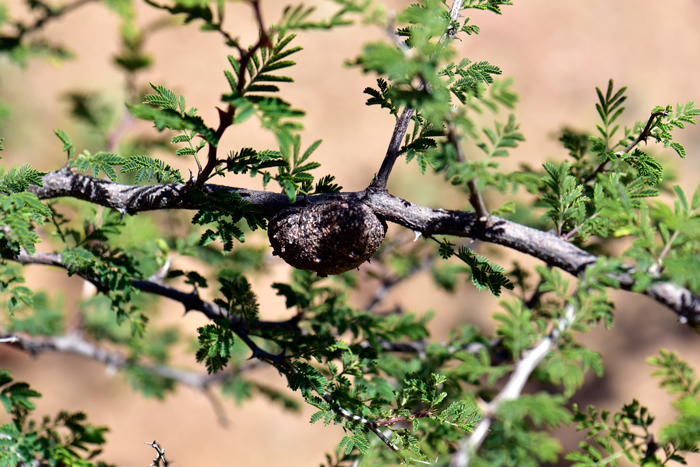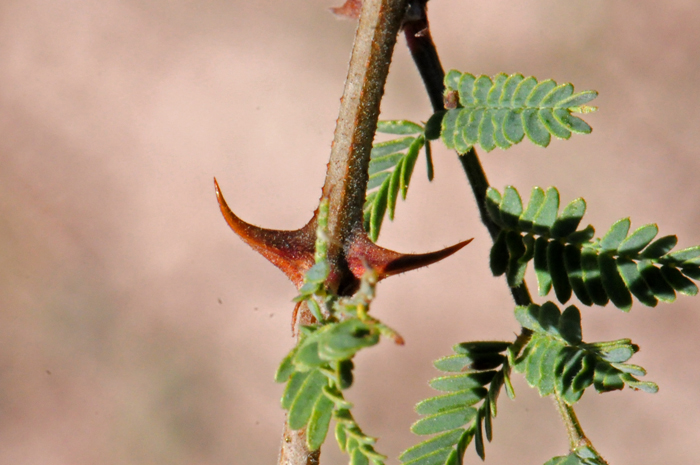 Scientific Name: Mimosa aculeaticarpa biuncifera
Common Name: Catclaw Mimosa

Also Called: Cat Claw Mimosa, Wait-a-Minute Bush, (Spanish: Gatuño, Gatuña, Uña de Gato, Garruño)

Family: Fabaceae or Leguminosae Family

Synonyms: (Mimosa biuncifera, Mimosa biuncifera var. glabrescens, Mimosa biuncifera var. lindheimeri, Mimosa lindheimeri, Mimosa warnockii, Mimosopsis biuncifera, Mimopsis flexuosa)

Status: Native

Duration: Perennial

Size: Up to 3 to 8 feet (1 - 2.66 m).

Growth Form: Shrub or small tree; straggling, thicket-forming, reddish stems slender, stems with single or paired curved strong prickles, heavily branched. The prickles can be harmful to human skin and cloths.

Leaves: Green; small, deciduous; pinnately compound; 8 or more leaflets,; linear to oblong.

Flower Color: White or whitish or pinkish; fuzzy flowers in globose clusters; fruit is a flattened and curved seed pod which is constricted between seeds, seeds are reddish brown.

Flowering Season: May to August.

Elevation: 3,000 to 6,000 feet.

Habitat Preferences: Very common in chaparral communities; dry soils on mesas and rocky slopes and hilltops.

Recorded Range: Relatively rare in the United States but common where found, Catclaw Mimosa is found in AZ, NM and TX. In Arizona it occurs throughout most of the state with few or now records in the southwest corner; In New Mexico it is found primarily in the southern half and in Texas it is found scattered through the central and western parts of the state. It also occurs in Puerto Rico and throughout much of Mexico.

North America & US County Distribution Map for Mimosa aculeaticarpa biuncifera.

U.S. Weed Information: No information available.
Invasive/Noxious Weed Information: No information available.
Wetland Indicator: No information available.
Threatened/Endangered Information: No information available.

Genus Information: In North America there are 22 species for Mimosa. Most native Mimosa are found in Texas. Worldwide, The Plant List includes 708 accepted species names and a further 344 scientific names of infra-specific rank for the genus.
The genus Mimosa is closely related to Acacia and Albizia, the differences are Mimosa flowers are reported to have 10 or fewer stamen per flower.

In the Southwestern United States: Arizona has 5 species of genus Mimosa, California has 0 species, Nevada has 1 species, New Mexico has 6 species, Texas has 17 species, Utah has 1 species. All data approximate and subject to revision.

There is 1 variety in Mimosa aculeaticarpa;
Mimosa aculeaticarpa biuncifera, (AZ, NM, TX).

Comments: Catclaw Mimosa, also commonly called Wait-a-minute Bush, is a dominant mid- to upper-elevation Sonoran Desert species, where it is scattered about with several other co-dominant shrubs such as Acacia, Prosopis and Juniperus. Catclaw Mimosa is one of the common species in the lower to higher desert scrub communities.

This species has a tendency to form thickets and thus providing excellent cover for small mammals and birds. Only the seed pods are eaten by desert livestock and the seeds are eaten by quail.

Also see in Southwest Desert Flora; Velvetpod Mimosa, Mimosa dysocarpa and Roemer's Mimosa, Mimosa roemeriana.

For a comprehensive review of Catclaw Mimosa, Mimosa aculeaticarpa biuncifera see the USDA USFS Fire Effects Information System, or FEIS.

Importance to Wildlife and Livestock

Catclaw Mimosa, (Mimosa aculeaticarpa) is marginal for deer and pronghorn unless no other forage exists. The plants are rarely used by livestock and then only if other forage is not available. However the seed pods are highly palatable to both livestock.
The dense thickets provide high cover value to both small rodents and quail and the seed pods are eaten by quail and other ground birds.

Special Value to Native Bees, Butterflies, Birds and Insects

Catclaw Mimosa, (Mimosa aculeaticarpa) flowers provide a good source of nectar for honey bees. Check out: Native bees do it better; Arizona Sonora News, UA Journalism School Media (accessed 11/11/2019).

Etymology:

The genus Mimosa is from the Greek word "mimos", an actor or mime and the suffix "osa" meaning resembling", a reference to rapidly closing leaves which appears to "mimic" conscious life.
The origin and meaning of the species epithet aculeaticarpa is unknown.

Ethnobotany

No information available.