Mimosa roemeriana, Roemer's Mimosa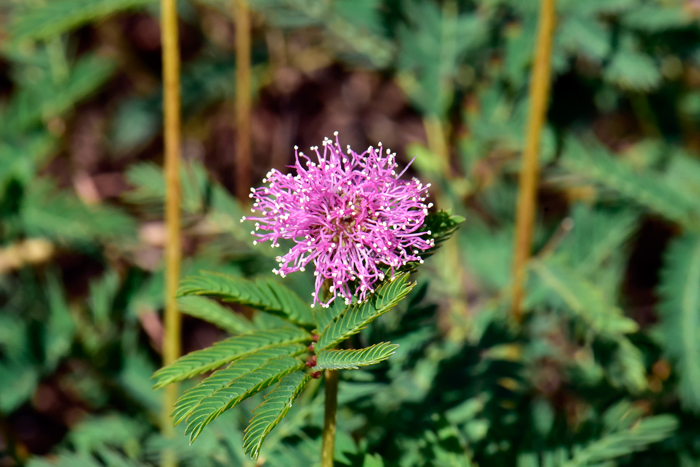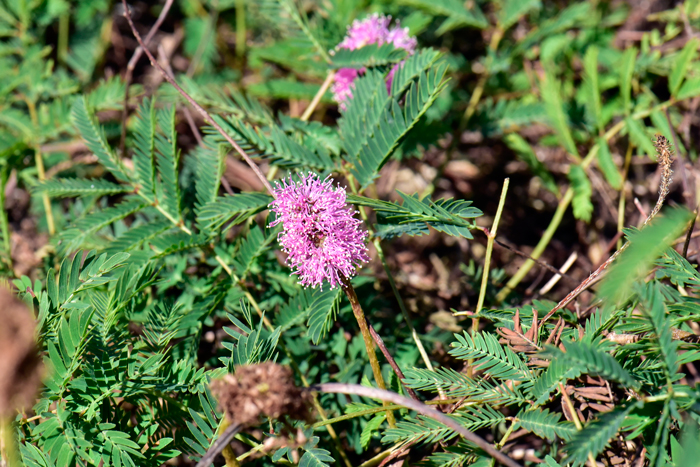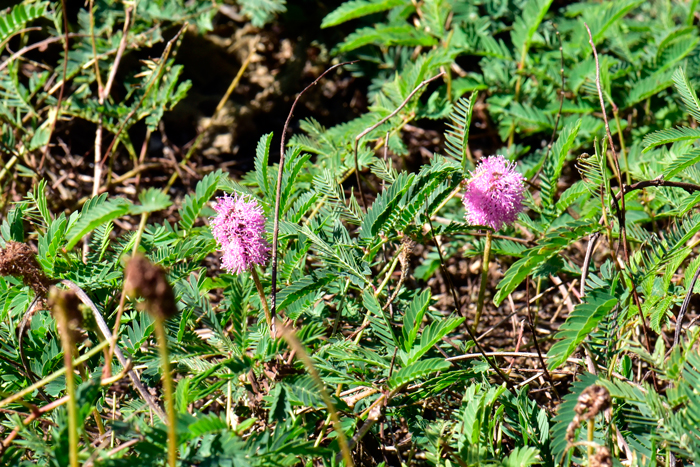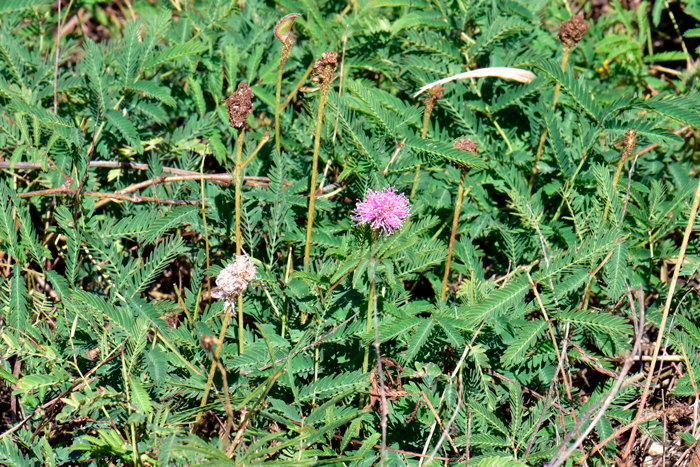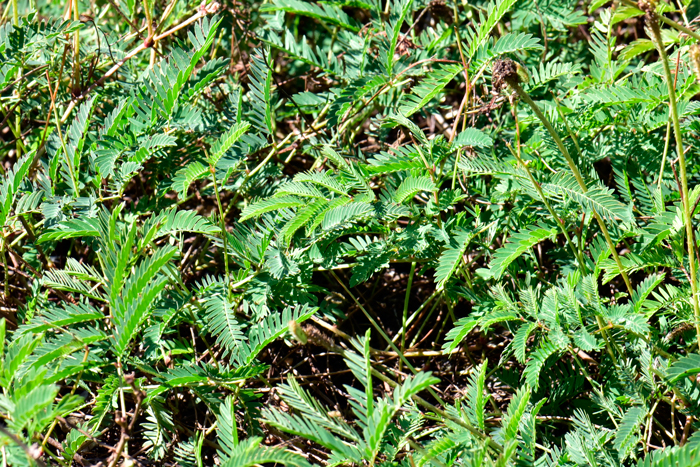 Scientific Name: Mimosa roemeriana
Common Name: Roemer's Mimosa

Also Called: Cat's Claw, Catclaw, Pink Sensitive Briar, Roemer's Sensitive Briar, Roemer's Mimosa, Sensitive Briar, Sensitive Plant, Shame Vine

Family: Fabaceae or Leguminosae Family

Synonyms: (Mimosa quadrivalvis var. platycarpa, Schrankia roemeriana)

Status: Native to Texas.

Duration: Perennial

Size: 1 to 2 feet (30.48 to 60.96 cm), may spread horizontally several feet (up to 6 feet (1.82 m).

Growth Form: Forb/herb, vining; plants low growing, trailing, prostrate, stems ribbed with numerous recurved painful prickles (thus the common name briar), branching, lower parts of stems rounded or 5-sided, young stems puberulent or sometimes glabrous, stems 12 to 40 inches (30.48 to 101.6 cm) long.

Leaves: Green; alternate, pinnately compound; when touched the leaflet pairs quickly fold back looking like the leaves are closing-up, thus the name "sensitive".

Flower Color: Pink or lavender, showy 1 inch (25 mm) puffball type flowers; flowers with fragrance; inflorescence from leaf axils, puffball "flower" with several small individual flowers containing 5 petals and 8 to 10 extending yellow or gold tipped stamens with pink filaments and yellow anther; fruit flattened pods at maturity 3 to 6 times as wide as thick, seed pods also with prickles, seeds almost square, smooth.

Flowering Season: April to July

Elevation: 600 to 3,000 feet (182.88 to 914.4 m)

Habitat Preferences: Roadways, pastures, fields, prairies, rocky-areas, calcareous and chalky type soils, sandy soils.

Recorded Range: Mimosa roemeriana is found primarily in North Central Texas and on the Edwards Plateau, where it is common and wide-spread. Possibly native also to Oklahoma.

North America & US County Distribution Map for Mimosa roemeriana.

U.S. Weed Information: Not considered a weed as such but regarded as an important lawn pest in Galveston County, Texas which can quickly become a major problem without quick preventative measures.

Invasive/Noxious Weed Information: No information available.
Wetland Indicator: No information available.
Threatened/Endangered Information: No information available.

Genus Information: In North America there are 22 species for Mimosa. Most native Mimosa are found in Texas. Worldwide, The Plant List includes 708 accepted species names and a further 344 scientific names of infra-specific rank for the genus.
The genus Mimosa is closely related to Acacia and Albizia, the differences are Mimosa flowers are reported to have 10 or fewer stamen per flower.

In the Southwestern United States: Arizona has 5 species of genus Mimosa, California has 0 species, Nevada has 1 species, New Mexico has 6 species, Texas has 17 species, Utah has 1 species. All data approximate and subject to revision.

Comments: Roemer's Mimosa is also called, among other common names, "sensitive briar" because its leaves close-up quickly when touched. Members of the genus Mimosa are among the few plants that are capable of this fast, rapid movement.

Also see in Southwest Desert Flora; Catclaw Mimosa, Mimosa aculeaticarpa biuncifera and Velvetpod Mimosa, Mimosa dysocarpa.

Special Value to Native Bees, Butterflies, Birds and Insects

The genus Mimosa is a known host to butterflies and moths of both the Pieridae (Whites and Sulphurs) and Galacticidae (Galacticid Moths) families: - Find out more from Butterflies and Moths of North America.

Etymology:

The genus Mimosa is from the Greek word "mimos", an actor or mime and the suffix "osa" meaning resembling", a reference to rapidly closing leaves which appears to "mimic" conscious life.
The species epithet roemeriana is named in honor of Ferdinand von Roemer, a German geologist who lived in Texas from 1845 to 1847 and became known as the "father of Texas geology". Mr. Roemer collected specimens in the New Braunfels, Texas, area from 1845-47.

Ethnobotany

No information available.