Parkinsonia aculeata, Jerusalem Thorn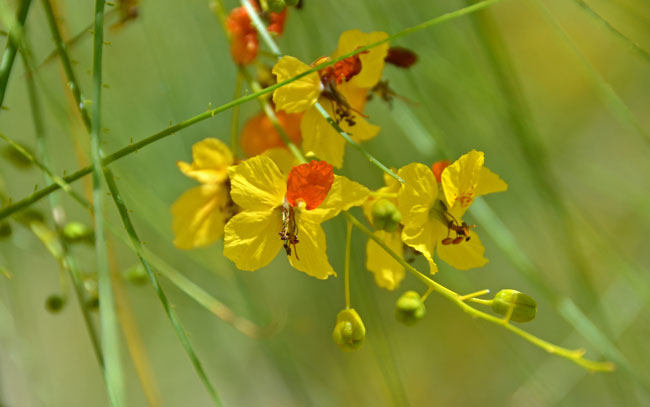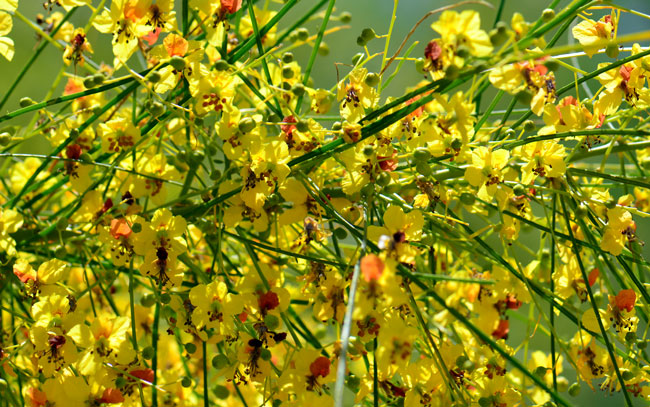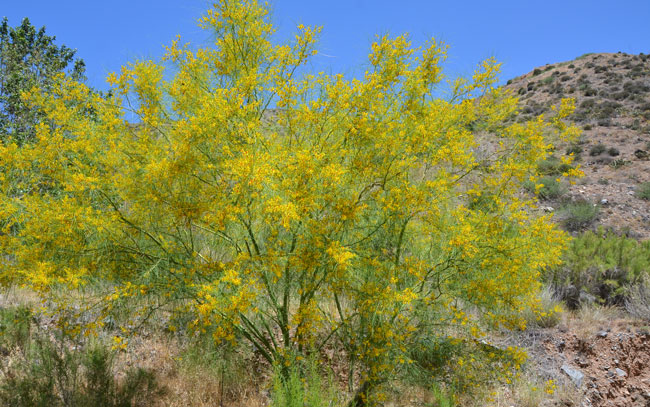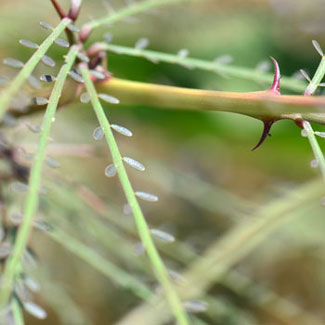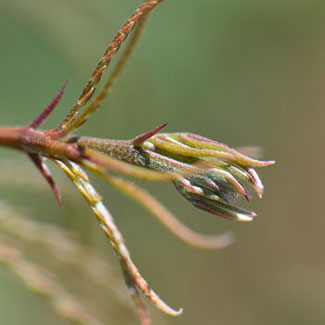 Scientific Name: Parkinsonia aculeata
Common Name: Jerusalem Thorn
Also Called: Horse Bean, Jerusalem-thorn, Mexican Palo Verde, Retama (Spanish: Guacaporo, Retama, Bagote, Huacapori, Junco Marino, Palo ver, Cacaporo, Guacóporo, Huacóporo, Espinillo, Mezquite Verde)
Family: Fabaceae or Leguminosae Family
Synonyms: ()
Status: Native
Duration: Perennial
Size: Up to 35 feet and almost as wide, much smaller in habitat.
Growth Form: Small tree or shrub; spines, branches bright green or yellow-green, smooth bark, photosynthesizing bark, single or multiple trucks.
Leaves: Green; distinctive (see photo), alternate, pinnately compound, leaflets in 1 to 3 pairs, elliptical.
Flower Color: Yellow; bright yellow, fading to orange; 1 inch showy flowers, 5-petals, banner petal may be diagnostic with its red or with red splotches, inflorescence a raceme, fruit a dehiscent legume.
Flowering Season: May; with minor flowering throughout the year.
Elevation: 2,000 to 3,000 feet.

Habitat Preferences: Occasional in sandy soil along washes, limestone soils in Texas.

Recorded Range: In the United States Jerusalem Thorn is found primarily in the border states in AL, AZ, CA, FL, GA, HI, LA, MS, NM, NV, SC, TX and UT. It is also native to Baja California, Mexico and South America. In Arizona, Jerusalem Thorn is found in central and southern Arizona.
North America & US County Distribution Map for Parkinsonia aculeata.
U.S. Weed Information: No information available.
Invasive/Noxious Weed Information: No information available.

Wetland Indicator: In North America Parkinsonia aculeata has the following wetland designations;
Arid West, FAC;
Atlantic and Gulf Coastal Plain, FAC;
Great Plains, FACW and
Western Mountains, Valleys, and Coast, FACU.
FACW, Facultative Wetland, usually occur in wetlands, but may occur in non-wetlands
FAC, Facultative, occur in wetlands and non-wetlands
FACU, Facultative Upland, usually occur in non-wetlands, but may occur in wetlands.

Threatened/Endangered Information: No information available.
Genus Information: 4 native species in the contiguous United States. 3 species in Arizona.
The Plant List shows 20 species names of which 9 are accepted.
Comments: Occurrence of this species in central Arizona is likely more of an escapee from cultivation as opposed to a true native. It is easy to grow as a drought tolerant cultivated species as its seeds are quick to sprout without additional preparation. A common fast-growing cultivated species the Phoenix area. New growth is much more attractive than old growth.
Jerusalem Thorn is superficially similar in appearance to both Blue Palo Verde, Parkinsonia florida and Yellow Palo Verde, Parkinsonia microphylla. A good rule of thumb to separate these similar species is the color of the large banner petal as follows; Jerusalem Thorn has a red or brown petal (or a petal with a few red splashes); Yellow Palo Verde has a white banner petal and the Blue Palo Verde has a yellow banner.
The genus name Parkinsonia honors the English botanist John Parkinson (1567–1650).
The seeds of Jerusalem Thorn are used as food by several Native American groups. See all ethno-botanical uses at Native American Ethnobotany, University of Michigan, Dearborn.