Parkinsonia florida, Blue Paloverde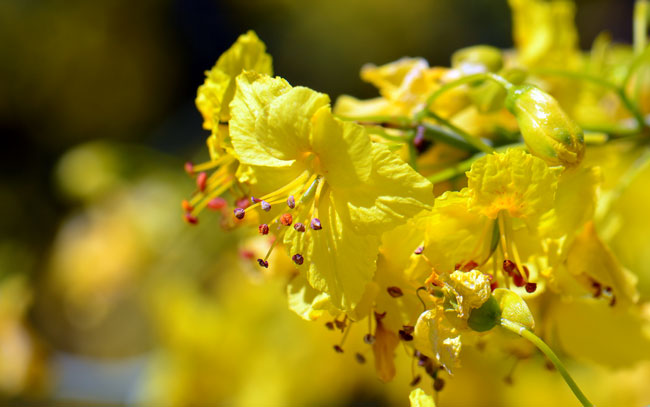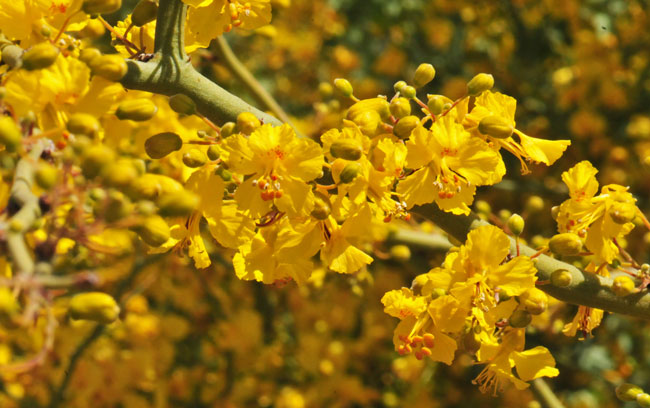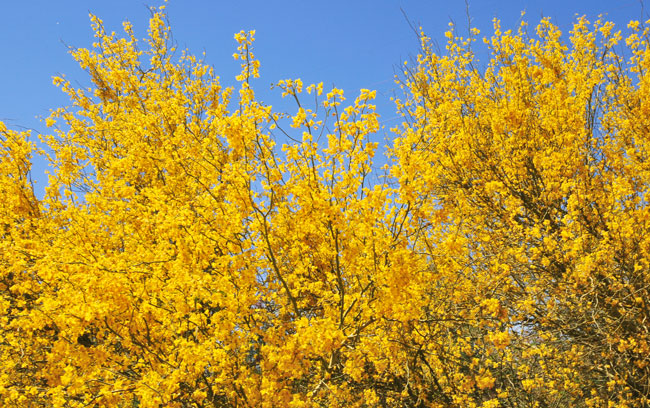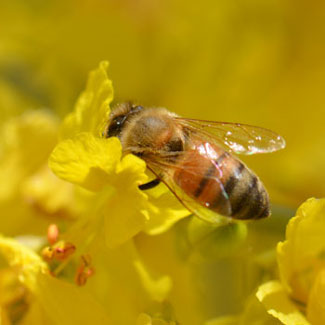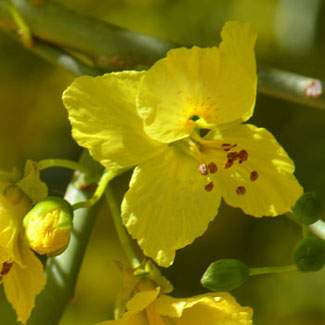 Scientific Name: Parkinsonia florida
Common Name: Blue Paloverde
Also Called: Blue Palo Verde (Spanish: Palo Verde Azul)
Family: Fabaceae or Leguminosae Family
Synonyms: (Cercidium floridum, Cercidium floridum subsp. floridum, Cercidium floridum subsp. peninsulare)
Status: Native
Duration: Perennial
Size: Up to 30 feet or more, slightly taller than Yellow Paloverde.
Growth Form: Tree or shrub; bark bluish-green; tree graceful, spiny, large trunk diameter 1.5 foot, few leaves although photosynthesis is accomplished by the blue-green trunk, branches and twigs, ¼ spine at each node.
Leaves: Green; few and scattered, borne on short rachis, leaflets in 2 to 3 pairs, very small, mostly absent, often after summer monsoon rainfall.
Flower Color: Bright yellow; 1 to 2 inches across, banner petal also yellow; 4 or 5 flowers in cluster; fruit a legume, pods flattened, not tightly constricted between seeds, about 1.5 to 4 inches long, 1 to 8 seeds.
Flowering Season: March to May and occasionally again from August to October following summer monsoon rain.
Elevation: 3,500 and lower, although occasionally at higher elevations.

Habitat Preferences: Common in valleys, washes and flood plains.

Recorded Range: In the United States, Blue Paloverde is found in the southwestern states of Arizona, California and Nevada. It is also native to Baja California and Mexico. In Arizona it occurs in the central, southern and western parts of the state. In Nevada it is found in the extreme southeast corner and in California in the southeast.
North America & US County Distribution Map for Parkinsonia florida.
U.S. Weed Information: No information available.
Invasive/Noxious Weed Information: No information available.
Wetland Indicator: No information available.

Threatened/Endangered Information: In Arizona, Parkinsonia florida is "Salvage Assessed, Harvest Restricted" (A permit from the Department of Agriculture is necessary to transport this species off private property.)
Genus Information: 4 native species in contiguous United States. 3 native species in Arizona.
The Plant List shows 20 species names of which 9 are accepted.
Comments: Blue Paloverde is native to the Sonoran Desert and is co-dominant with with Creosote (Larrea), Desert Ironwood (Olneya), Saguaro (Carnegiea), Ocotillo (Fouquieria) and Mesquite (Prosopis) occurring primarily in valley and washes. Most of the trees bloom in unison in beautiful bright yellow flowers. The green twigs provide "emergency" food for desert livestock and the seeds are readily eaten by birds and mammals. The flower nectar is an important source of honey for bees. The Spanish name Paloverde translated means green tree or green pole.
The Blue Paloverde is the state tree of Arizona and was also named the "City tree" of South Miami, Florida. It is a common ornamental plant in desert landscapes in central and southern Arizona. Both Blue and Yellow Paloverde trees are very slow growers. Blue Paloverde was first described and collected near Hermosillo, in Sonora, Mexico in 1830 by Thomas Coulter.
Blue Palo Verde is superficially similar in appearance to both Jerusalem Thorn, Parkinsonia aculeata and Yellow Palo Verde, Parkinsonia microphylla. Key distinguishing features separating these species is the color of the large banner petal as follows; Jerusalem Thorn has a red or brown petal (or a petal with a few red splashes); Yellow Palo Verde has a white banner petal and the Blue Palo Verde has a yellow banner. Also, Blue Palo Verde often blooms 2 weeks before Yellow Palo Verde.
The young pods were cooked and eaten and ground the seed for meal. See ethno-botanical uses at Native American Ethnobotany, University of Michigan, Dearborn.