Parkinsonia microphylla, Yellow Paloverde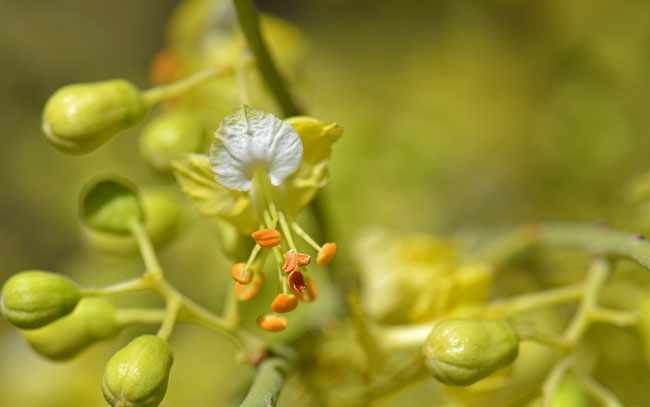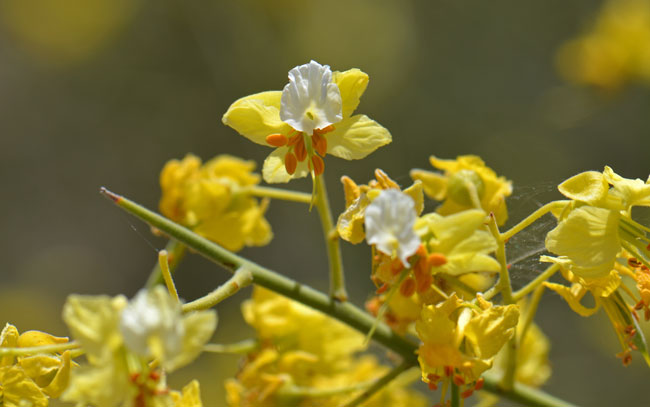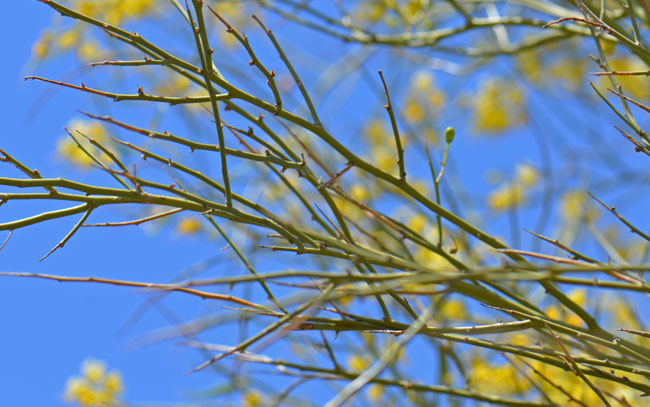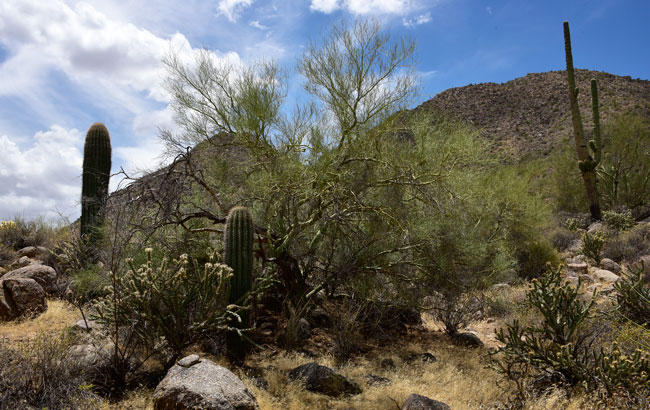 Scientific Name: Parkinsonia microphylla
Common Name: Yellow Paloverde
Also Called: Foothill Palo Verde, Little Leaf Palo Verde, Littleleaf Palo Verde (Spanish: Palo Verde, Palo Verde de Hoja Finita)
Family: Fabaceae or Leguminosae Family
Synonyms: (Cercidium microphyllum)
Status: Native
Duration: Perennial
Size: Up to 25 feet, slightly smaller than Blue Paloverde.
Growth Form: Tree or shrub; spiny, heavily branched with an open crown, bark is a smooth yellow-green with ability to photosynthesize, trunk about 1 foot in diameter.
Leaves: Green or yellow-green; pinnately compound, spiny, leaves in pairs, rachis longer than on Blue Paloverde, about 6 to 8 inches long, although leaves are absent most of the year.
Flower Color: Yellow; about 1 inch across, flowers smaller and paler than Blue Paloverde; banner petal is cream or white, fruit is a legume, pods short, about 2 to 3 inches long, tightly constricted between seeds, 1 to 5 seeds.
Flowering Season: April and May.
Elevation: Below 4,000 feet.

Habitat Preferences: Dry rocky hillsides and mesas, less common in washes than Blue Palo Verde.

Recorded Range: Although common where found, Yellow Paloverde is relatively rare in the United States where it occurs only in Arizona and California. In Arizona it is found primarily in the central and west half of the state and in California it is uncommon in San Bernadino County.

North America & US County Distribution Map for Parkinsonia microphylla.

U.S. Weed Information: No information available.
Invasive/Noxious Weed Information: No information available.
Wetland Indicator: No information available.

Threatened/Endangered Information: In Arizona, Parkinsonia microphylla is "Salvage Assessed, Harvest Restricted" (A permit from the Department of Agriculture is necessary to transport this species off private property.)

Genus Information: 4 native species in contiguous United States. 3 native species in Arizona. The Plant List shows 20 species names of which 9 are accepted.

Comments: Yellow Paloverde is one of the most common trees of the Sonoran Desert. It is both an indicator species and a common dominant plant in the Sonoran Desert. Other co-dominant species include Creosote-bush (Larrea), Triangle Bursage (Ambrosia), Brittlebush (Encelia) Ocotillo (Fouquieria) and Wolfberry (Lycium). This community is sometimes called the Paloverde, Bursage desert scrub community.

Yellow Paloverde is a common ornamental plant in desert landscapes. Both Yellow and Blue Paloverde trees are very slow growers. The type specimen for Parkinsonia microphylla is from Colorado River and Williams River.

Yellow Palo Verde is similar in appearance to Jerusalem Thorn, Parkinsonia aculeata and Blue Palo Verde, Parkinsonia florida. An easy key distinguishing feature is in the color of the large banner petal; Jerusalem Thorn has a red, brown or reddish-brown splashes; Blue Palo Verde has a yellow banner and Yellow Palo Verde has a white banner petal. Also, Yellow Palo Verde often blooms 2 weeks after Blue Palo Verde.

Parkinsonia microphylla has been used for food by southwestern United States indigenous peoples.
Cocopa Food, Porridge, Seeds roasted, ground and made into mush.
Papago Food, Dried Food, Seeds basket winnowed, parched, sun dried, cooked, stored and used for food.
Pima, Gila River Food, Unspecified, Peas eaten raw or cooked.
Yuma Food, Starvation Food, Seeds parched until almost burned and eaten as a famine food.
See ethno-botanical uses at Native American Ethnobotany, University of Michigan, Dearborn.