Phaseolus filiformis, Slimjim Bean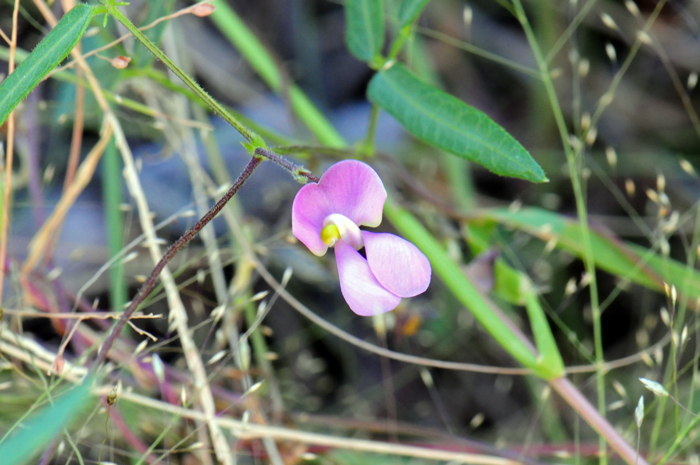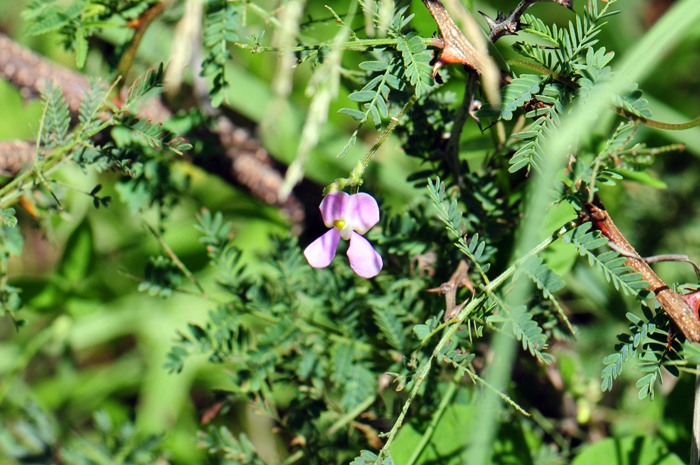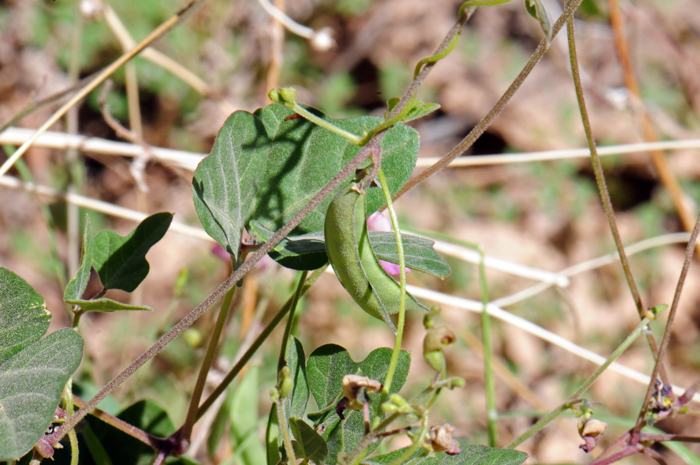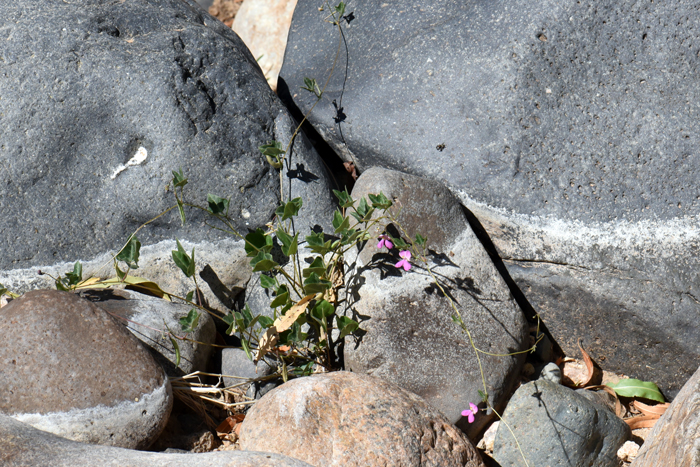 Scientific Name: Phaseolus filiformis
Common Name: Slimjim Bean

Also Called: Desert Bean, Wright's Phaseolus (Spanish: Ban Bavi)

Family: Fabaceae or Leguminosae Family

Synonyms: (Phaseolus wrightii)

Status: Native

Duration: Annual or short-lived perennial

Size: Up to 12 inches, low growing vine.

Growth Form: Forb/herb and/or a vine; slender taproot; stems cylindric or angled, branching at base, climbing or twining, erect or prostrate, plant herbage pubescent, minute hooked hairs.

Leaves: Green; alternate; pinnately compound with 3 leaflets, leaves are deltoid, wide ovate-triangular and generally lobed.

Flower Color: Pink, pink-purple; large, showy pea-like flowers, inflorescence a raceme, flowers in clusters from leaf axils or at stem tips (terminal); Fruit an oblong, curved seed pods that open at maturity (dehiscent), seeds hard, 1 or several, seeds reniform in shape.

Flowering Season: October to December or flowers throughout the year.

Elevation: 1,000 to 4,000 feet (305-1219 m).

Habitat Preferences: Rocky soils on slopes and canyons or washes.

Recorded Range: Slimjim Bean is found in the southwestern United States in AZ, CA, NM and TX. It is also native to Baja California and northwest Mexico. In Arizona Slimjim Bean is found in the central and southern portions of the state.

North America & US County Distribution Map for Phaseolus filiformis.

U.S. Weed Information: No information available.
Invasive/Noxious Weed Information: No information available.
Wetland Indicator: No information available.

Threatened/Endangered Information: Seriously Endangered in California; State Rank: S1, S1: Critically Imperiled.

Genus Information: 12 species in Phaseolus in the United States. Recent taxonomic changes have moved several species from the genus Phaseolus to Macroptilium, Vigna and Strophostyles. Worldwide, The Plant List includes 97 accepted species names and a further 45 scientific names of infraspecific rank for the genus.

In the Southwestern United States: Arizona and Texas each have 7 species of Phaseolus, California and Utah each have 1 species, Nevada has 0 species and New Mexico has 6 species. All data approximate and subject to revision.

The genus Phaseolus is one of the most important genera in the Fabaceae family as they are used for cooking in either fresh or dried form. Several species have been cultivated for their beans which are rich in protein and contain iron, thiamin and riboflavin. The genus Phaseolus is native to the Americas.

Comments: Slimjim Bean is closely related to the Garden Beans or String Beans Phaseolus vulgaris and Butter Beans or Lima beans Phaseolus lunatus.

In Southwest Desert Flora also see Slimleaf Bean, Phaseolus angustissimus.

Etymology:

The genus Phaseolus is from the Ancient Greek word "phaselus" meaning a kind of bean with an edible pod. The species epithet filiformis means thread-like, a reference to twining?

Ethnobotany

Unabridged Note: 1 Pinacate people (Sonora, Mexico) eat seeds.