Prosopis pubescens, Screw Bean Mesquite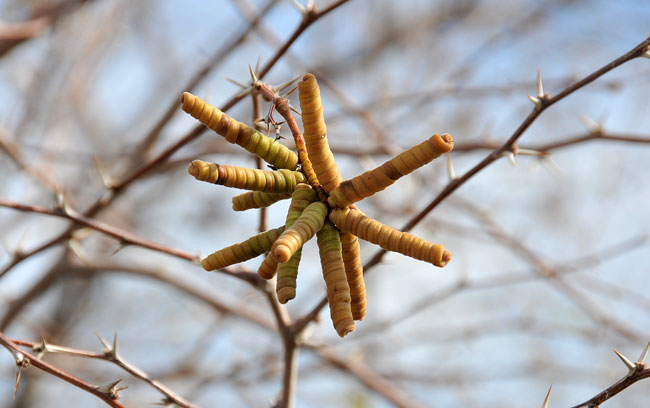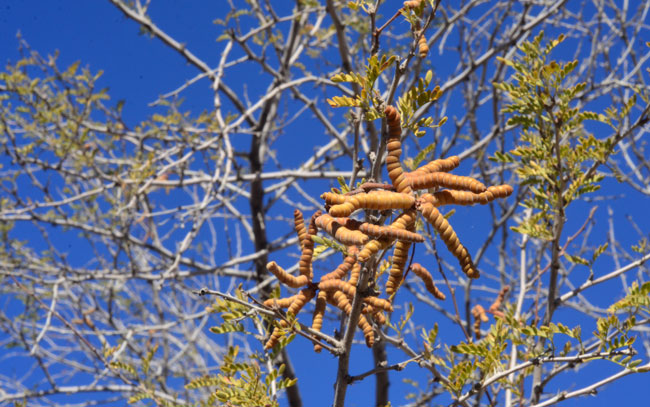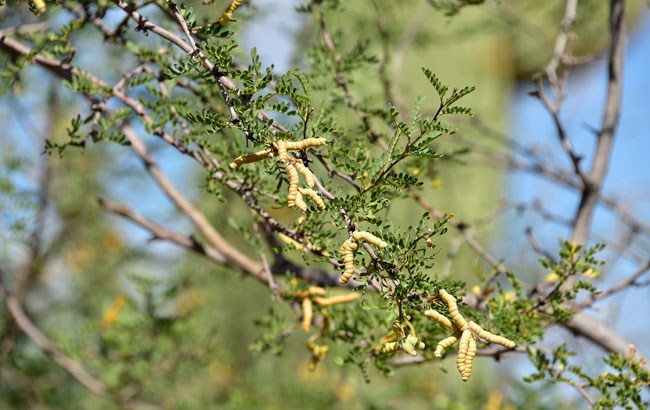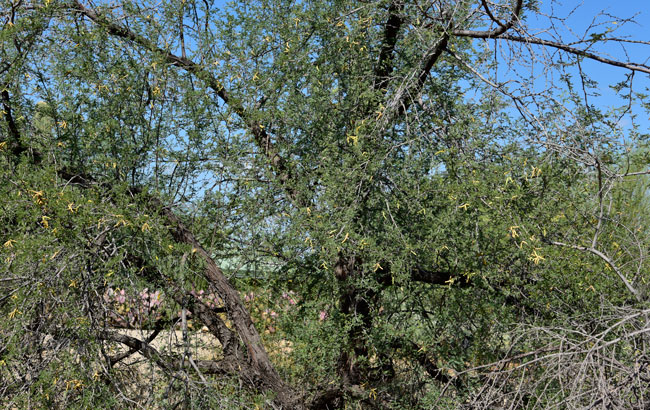 Scientific Name: Prosopis pubescens
Common Name: Screw Bean Mesquite
Also Called: Screwbean, Screwpod Mesquite (Spanish: Tornillo, Mezquite Tornillo)
Family: Fabaceae or Leguminosae Family
Synonyms: (Strombocarpa odorata)
Status: Native
Duration: Perennial
Size: Up to 20 feet.
Growth Form: Tree or shrub; the crown is more narrow than full, branches ascending, spines present.
Leaves: Green; pubescent, pinnately compound.
Flower Color: White, yellow; flowers in spikes about 3 inches long, fruit a showy tightly coiled legume.
Flowering Season: May to June.
Elevation: Below 4,000 feet

Habitat Preferences: Lower flood plains, creek bottoms, gravelly washes and sandy or saline soils.

Recorded Range: In the United States, Screw Bean Mesquite is found in the southwest in the states of; AZ, CA, NM, NV, TX and UT. It is also native to northern Mexico and possibly northern Baja California.
North America & US County Distribution Map for Prosopis pubescens.
U.S. Weed Information: No information available.

Invasive/Noxious Weed Information: All members of the genus Prosopis are listed as a Noxious Weed by the state of Florida.

Wetland Indicator: In North America Prosopis pubescens has the following wetland designations; Arid West, FAC; Great Plains, FAC; Western Mountains, Valleys, and Coast, FAC
FAC, Facultative, occur in wetlands and non-wetlands.

Threatened/Endangered Information: Arizona Screw Bean Mesquite is "Salvage Assessed", "Harvest Restricted". A permit is needed from the Department of Agriculture to transport this species off of private land.
Genus Information: 35 species in Prosopis in the southwestern United States. 3 native species in Arizona.
The Plant List includes 111 scientific plant names of species rank for the genus Prosopis. Of these 46 are accepted species names.
Comments: Screw Bean Mesquite may be a dominant species lower elevation riparian areas or mesquite bosque habitats. The flowers provide an important source of nectar for desert honey-bees and wildlife and livestock eagerly eat the leaves and sweet pods or Screw Bean Mesquite.
All species of Mesquite make excellent firewood and their wood has been used for tool handles and fence-posts. Pollen from all species are reported to be responsible for hay-fever.
Also see in Southwest Desert Flora; Western Honey Mesquite, Prosopis juliflora var. torreyana.
The fruit pods and seeds have been used for earache or ground into flour and made into bread by southwestern Native Americans. See ethno-botanical uses at Native American Ethnobotany, University of Michigan, Dearborn.