Psorothamnus spinosus, Smoketree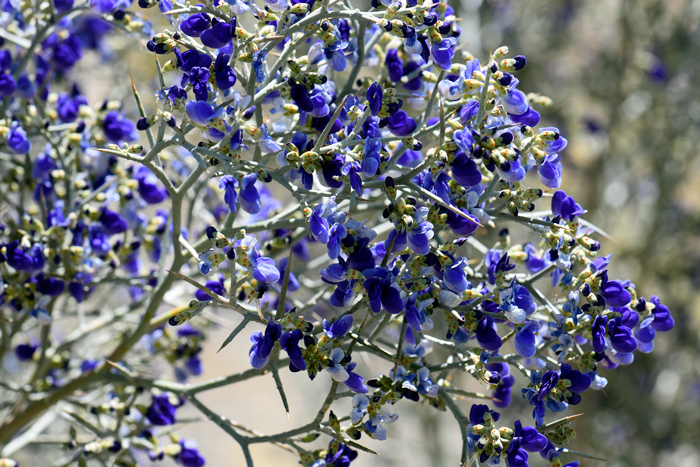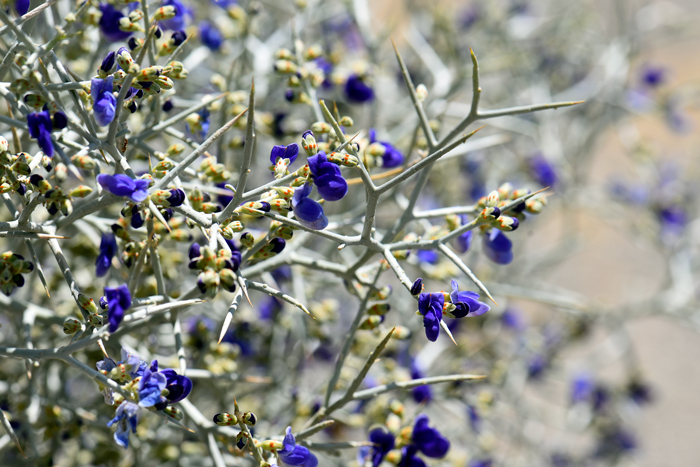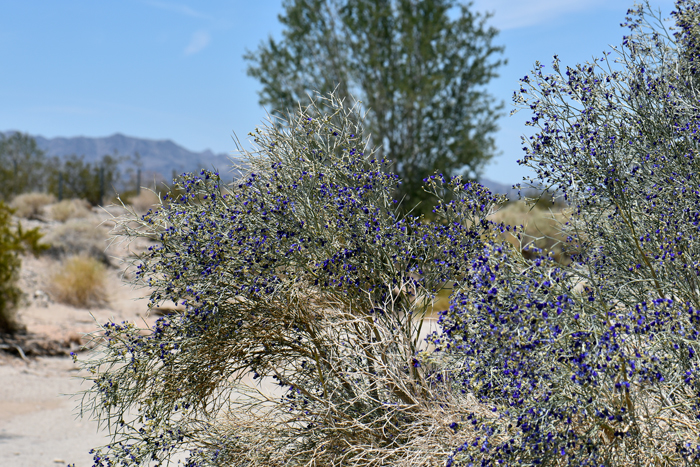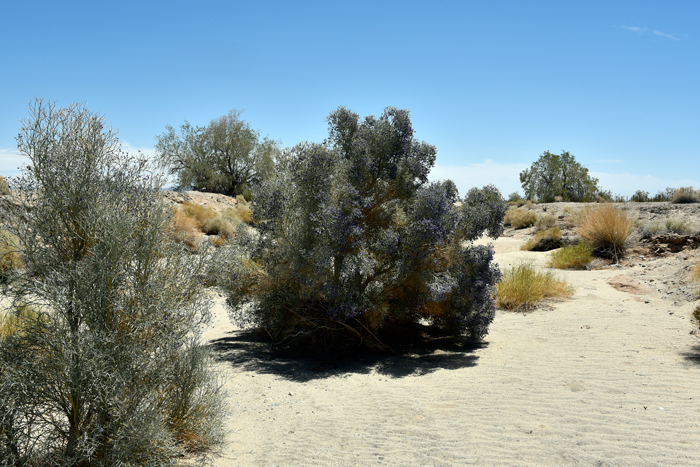 Scientific Name: Psorothamnus spinosus
Common Name: Smoketree
Also Called: Indigobush, Smoke Thorn, Smoke Tree, Smokethorn Dalea, Smokethorn (Spanish: Palo de Humo, Palo Cenizo, Corona de Cristo, Mangle)
Family: Fabaceae or Leguminosae Family
Synonyms: (Dalea spinosa)
Status: Native
Duration: Perennial;
Size: Up to 25 feet or more.
Growth Form: Tree, shrub; a small compact spiny tree or large shrub, gray-canescent, short trunk, up to 1.5 feet in diameter, tightly or intricately branched smoky gray or silvery branches with spiny twigs, stems and branches with brown gland dots ending in sharp spines; the trunk, stems and branches produce food by photosynthesis.
Leaves: Green or silvery; leafless or few, up to 1 inch long, oblanceolate, thick, gland-dotted, deciduous before flowering.
Flower Color: Dark purple, violet or indigo-blue; pea-like 1 inch flowers in dense raceme spikes (5-15 flowers per spike); calyx plump-obovate, also gland-dotted; fruit a legume, pods egg shaped, gland-dotted, 1 or 2 seeds.
Flowering Season: April to June, slightly later in California, June to July and October to November.
Elevation: 1,500 feet or lower; below 1,200 feet in California.

Habitat Preferences: Desert sandy washes.

Recorded Range: In the United States Smoketree is found in the southwest in AZ, CA and NV. In Arizona is occurs in the west, central and southern parts of the state, in southeast California and southeast Nevada. It is also native to Baja California and northwest Mexico.

North America & US County Distribution Map for Psorothamnus spinosus.

U.S. Weed Information: No information available.
Invasive/Noxious Weed Information: No information available.
Wetland Indicator: No information available.

Threatened/Endangered Information: In Arizona, Psorothamnus spinosus is "Salvage Assessed, Harvest Restricted" (A permit from the Department of Agriculture is necessary to transport this species off private property.)

Genus Information: In North America there are 9 species and 20 accepted taxa overall for Psorothamnus. World-wide, The Plant List includes 10 accepted species names and a further 37 infraspecific rank for the genus.

In the Southwestern United States: Arizona has 7 species of Psorothamnus, California has 6 species, Nevada has 5 species, New Mexico has 1 species, Texas has 1 species, Utah has 4 species. All data is approximate and subject to taxonomic changes.

Comments: The common name Smoketree is a reference to the normally gray appearance of the tree, which, in spring, completely changes to a blast of violet or indigo-blue flowers. The type species was collected by William Hemsley Emory (1811–1887) along the Gila River.

In Southwest Desert Flora also see Schott's Dalea, Psorothamnus schottii.