Senna covesii, Coves' Cassia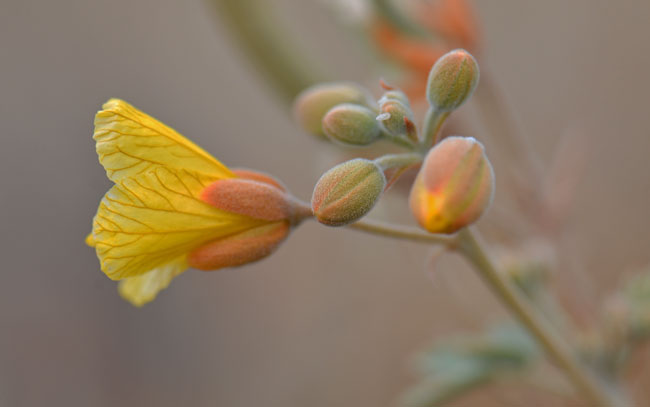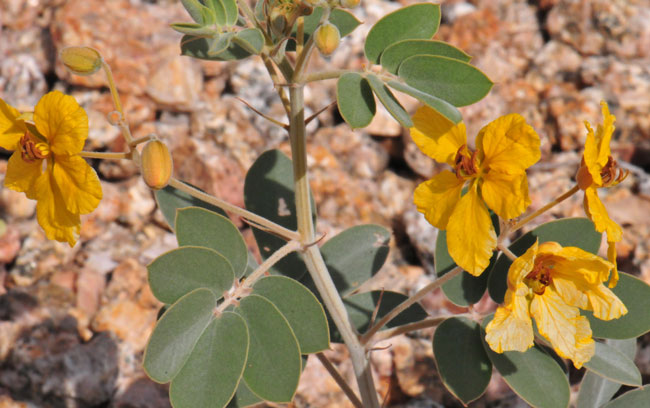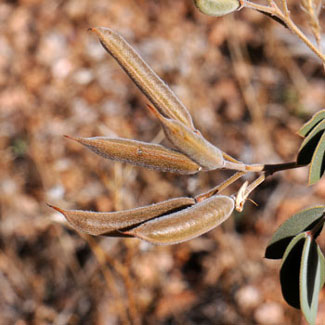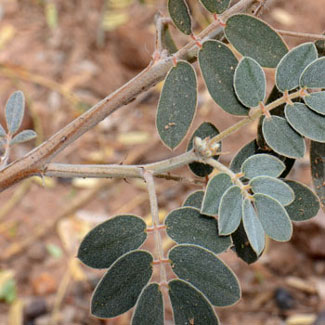 Scientific Name: Senna covesii
Common Name: Coves' Cassia
Also Called: Coues' Cassia, Coues' Senna, Cove Senna, Dais, Desert Senna, Rattlebox, Rattlebox Senna, Rattleweed (Spanish: Ejotillo, Hojasèn, Daisillo, Ojosón, Oyasón, Rosamaría)
Family: Fabaceae or Leguminosae Family
Synonyms: (Cassia covesii)
Status: Native
Duration: Perennial
Size: Up to 20 inches or more.
Growth Form: Forb/herb, subshrub; covered with gray pubescence
Leaves: Green or gray-green; opposite, stipules bristle-like, canescent, leaflets in 2 or 3 pairs on short stalk.
Flower Color: Yellow, flowers showy but few, veins in flowers prominent, fruit a dehiscent legume.
Flowering Season: April to October.
Elevation: 1,000 to 3,000 feet.

Habitat Preferences:Dry rocky slopes and mesas.

Recorded Range: In the United States Senna covesii is found in AZ, CA and NM. In Arizona it is found almost state-wide with few or no records in the northeast part of the state, In California it occurs in the southeast part of the state and in New Mexico in the southwest corner of the state (Clark County).
North America & US County Distribution Map for Senna covesii.
U.S. Weed Information: No information available.
Invasive/Noxious Weed Information: No information available.
Wetland Indicator: No information available.
Threatened/Endangered Information: No information available.
Genus Information: 59 species in Senna throughout most of the eastern half and southern half of the United States and in Ontario, Canada. 9 species in Arizona, 8 species in California. Several members of the genus Senna have been re-classified from Cassia.
The Plant List includes 1,225 scientific plant names of species rank for the genus Senna. Of these 272 are accepted species names.
Comments: Coves' Cassia is generally found in the same habitat types as Twinleaf Senna except that Coves' Cassia is much more common at lower elevations. Twinleaf Senna also will be observed blooming much later in the year, especially following a heavy monsoon.
Coves' Cassia is often used by transportation departments as a roadside wildflower species. It's flowers attract Carpenter Bees and Bumblebees. Sulphur Butterflies use the plant as a larval food source.
Also see in Southwest Desert Flora; Twinleaf Senna, Senna bauhinioides, Woolly Senna, Senna hirsuta v glaberrima and Baja California Senna, Senna purpusii.