Senna hirsuta v glaberrima, Woolly Senna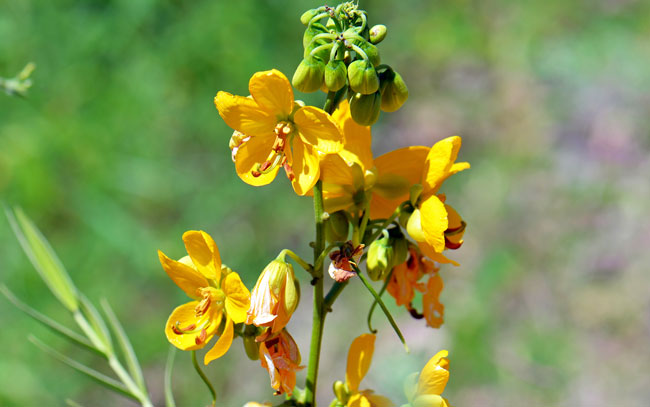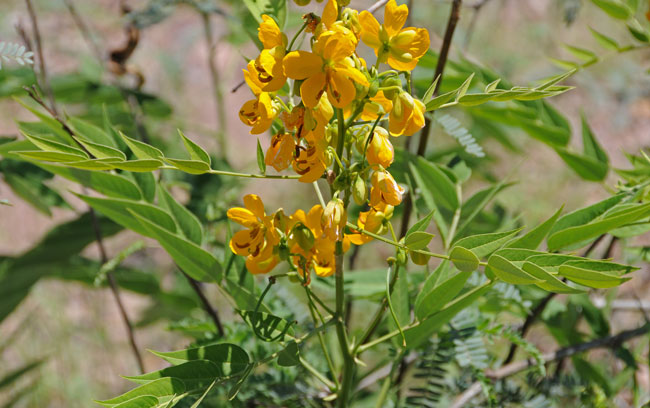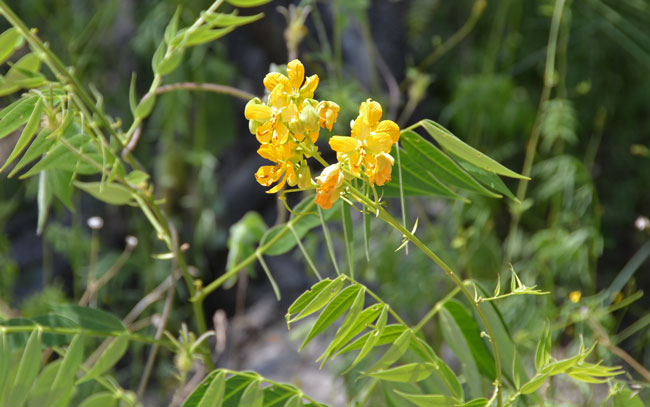 Scientific Name: Senna hirsuta var. glaberrima
Common Name: Woolly Senna
Also Called: Woolly Wild Sensitive Plant, Woolly Wild Sensitive-plant
Family: Fabaceae or Leguminosae Family
Synonyms: (Cassia leptocarpa, Cassia leptocarpa var. glaberrima, Cassia gooddingii)
Status: Native
Duration: Perennial
Size: Up to 6 feet or more.
Growth Form: Forb/herb; shrub, subshrub or tree; in the southwest an upright plant with a semi-woody base, multiple stems, pubescent.
Leaves: Green; alternate, pubescent, pinnately compound, petioles, 2 to 6 pairs of leaflets, leaflets variable elliptic to ovate, stipules present.
Flower Color: Yellow to deep orange-yellow; flowers with prominent darker brown veins as flower matures, flowers in large terminal panicles in 2 to 8 clusters, fruit a legume, pods slightly curved and pubescent.
Flowering Season: July to September.
Elevation: 2,500 to 5,500 feet.

Habitat Preferences: Along streams and washes.

Recorded Range: Relatively rare in the United States, Woolly Senna is found in southern Arizona and southwest New Mexico. It is also native to Mexico, South America and the West Indies. A widespread weed in tropical Africa and Asia. The exact origin may be unknown.
North America & US County Distribution Map for Senna hirsuta var. glaberrima as Senna hirsuta.
U.S. Weed Information: No information available.
Invasive/Noxious Weed Information: No information available.

Wetland Indicator: In North America Senna hirsuta has the following wetland designations; Arid West, FACU; Western Mountains Valleys, and Coast, FACU. FACU, Facultative Upland, usually occur in non-wetlands, but may occur in wetlands.

Threatened/Endangered Information: No information available.
Genus Information: 59 species in Senna throughout most of the eastern half and southern half of the United States and in Ontario, Canada. 9 species in Arizona, 8 species in California. Several members of the genus Senna have been re-classified from Cassia.
The Plant List includes 1,225 scientific plant names of species rank for the genus Senna. Of these 272 are accepted species names.
3 varieties in Senna hirsuta in the United States:
Senna hirsuta var. glaberrima, Woolly Senna (AZ, NM only)
Senna hirsuta var. hirsuta, Woolly Senna
Senna hirsuta var. leptocarpa
Comments: There is slight information published or on-line, available for Woolly Senna. The type specimen for Cassia leptocarpa var. glaberrima was collected from southern Arizona; the type specimen for Cassia Gooddingii was collected (Goodding 2431) from the Huachuca Mountains.
Also see in Southwest Desert Flora; Twinleaf Senna, Senna bauhinioides, Coves' Cassia, Senna covesii and Baja California Senna, Senna purpusii.